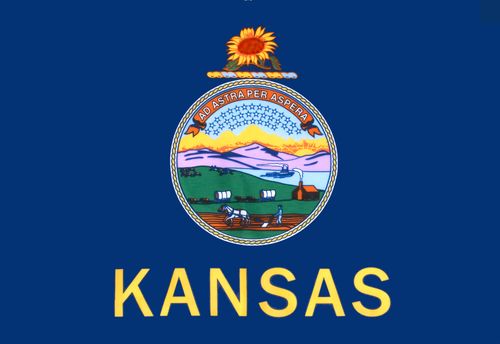 With the status of marriage equality in Kansas still murky, Equality Kansas has posted an update to the ongoing situation in the state.
Here's the organization's Facebook post from this morning:
Good morning –
To the best of our knowledge, there are currently 25 counties in 12 judicial districts that are issuing marriage licenses:
COUNTY (DISTRICT)
——————–
Brown (22)
Chase (5)
Cherokee (11)
Clay (21)
Cloud (12)
Cowley (19)
Crawford (11)
Doniphan (22)
Douglas (7)
Harvey (9)
Jewell (12)
Johnson (10)
Labette (11)
Lincoln (12)
Lyon (5)
Marshall (22)
McPherson (9)
Mitchell (12)
Nemaha (22)
Republic (12)
Riley (21)
Sedgwick (18)
Shawnee (3)
Washington (12)
Wyandotte (29)
There are currently NO state agencies that are recognizing any same-sex marriage, whether performed in Kansas or out-of-state. Governor Sam Brownback has apparently decided to keep us as second-class citizens for as long as possible. This means we will continue to have problems adding spouses to our insurance, changing names on our drivers' licenses, and so on.
This is despite the fact that, last week, Attorney General Derek Schmidt admitted on the record to the Associated Press that our marriages are *legal.*
As you might assume, we are on our way back to court. The ACLU is working with Equality Kansas members and leadership to prepare an amendment to the original Federal lawsuit in front of Judge Crabtree. We expect the amended complaint to be filed before Thanksgiving.
In the meantime – if you have plans to marry, don't put them off because of the legal wrangling. We've waited our entire lives, and there is little point in waiting any longer.
Head over to the Equality Kansas Facebook page here for more help on how to obtain a marriage license in the state.