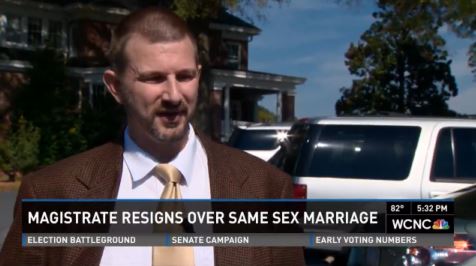 Citing anti-gay religious beliefs, at least six North Carolina judges have resigned following the legalization of gay marriage in the state on October 10, The Christian Post reports.
Last month, we reported that Rockignham County Magistrate John Kallam Jr. had resigned from his position, saying performing a same-sex wedding would "desecrate a holy Institution established by God Himself"
All six magistrates, Kallam, Breedlove, Bill Stevenson (Gaston County), Tommy Holland (Graham County), Gayle Myrick (Union County) and Jeff Powell (Jackson County) say they are waiting on God to give them direction in starting the next phases of their lives.
Stevenson is the latest judge to have publicized that he has stepped down from his position citing religious conflicts with the newly passed North Carolina marriage law.
Christian Examiner adds:
"I prayed about it; I asked for wisdom," Stevenson told the Christian Examiner. "I think our hearts have been led away by the cares of the world, our desires, and ultimately, our intense arrogance – our hubris – against the Lord.
"We've rejected the prime authority of the scriptures, something our Nation's Founding Fathers, such as John Adams, knew better than to do. … In both the Old and New Testaments, homosexuality is something the Lord does not approve of, and since He doesn't, I could not put the sanction of the state on a relationship that runs afoul of scripture."
God defines marriage in the Bible's second chapter of Genesis as between a man and a woman, Stevenson said.
The six judges include four Southern Baptists, one Missionary Baptist, and one Wesleyan. 
South Carolina Senate leader Phil Berger has proposed introducing legislation that would legally exempt public officials with religious conflicts from wedding gay couples. 
Check out a video of Stevenson discussing his resignation here.