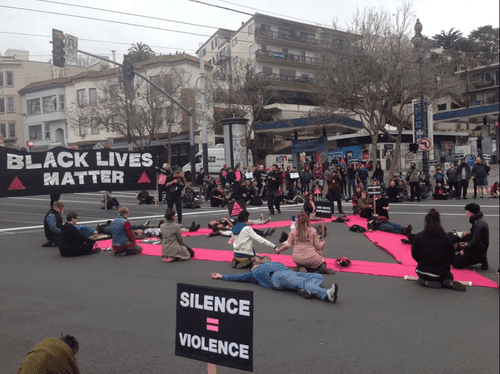 Close to 200 people, many from the LGBT community, blocked streets in and around San Francisco's Castro district on Christmas Eve morning, with a protest rallying against what they described as systemic police violence toward minorities reports SFGate. The demonstration is just one of numerous rallies around the country protesting the deaths of unarmed black men Mike Brown and Eric Garner, amongst many others, at the hands of police. Janetta Johnson, the program director for a transgender justice project in San Francisco, was one of the 200 protesters.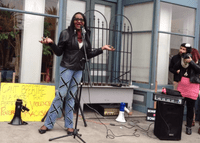 Said Johnson:
"We want to stand in solidarity and say the killings have to stop. There's a lot of fear of police — especially by black people and brown people."
Wednesday's group amassed at Market Street and Octavia Boulevard, blocking the Highway 101 ramps temporarily before marching down Market. Organizers chose to rally on the morning before Christmas to disrupt shopping, saying it was "No time for a celebration." Officers from the California Highway Patrol and the San Francisco Police Department stood by while some in the group placed a large pink triangle in the middle of the intersection at Market and Octavia; a sign next to the symbol read, "Silence = Violence."
Thea Matthews, a student and activist leader at City College of San Francisco, described the purpose of the black-LGBT intersectional march. 
Said Matthews:
"Today, we march, proclaiming our demands for police accountability, transparency and an end to institutional racism. In order to truly have all lives, especially black lives, matter, we must unite all oppressed communities who face police repression and violence."
San Francisco Police spoke with protest organizers at the beginning of the rally to find out what their plans were at the rally. S.F. Police then proceeded to help direct traffic around the protest. The protest ended around 10 a.m. at Market and Castro, with marchers singing and holding hands.