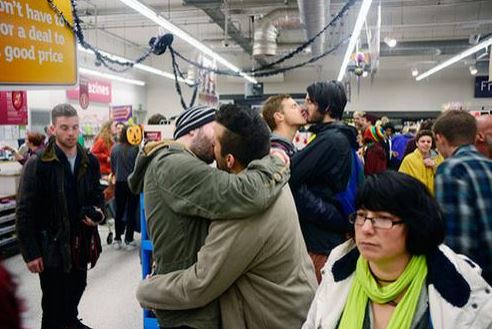 Prompted by a security guard who told a gay couple to leave a Burger King in Madrid last month after the guard noticed the couple kissing, some 100 LGBT protesters and allies staged a kiss-in the restaurant over the weekend.
The Huffington Post reports: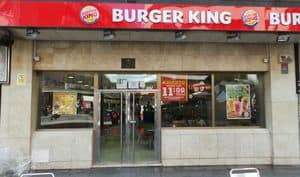 "This type of behavior is unacceptable in our city and we hope that the 'Burger King' chain will take sufficiently forceful measures to make sure it doesn't happen again," Amanda Rodríguez, Coordinator of Arcópoli [a Madrid-based LGBT rights group], said in a Facebook post.
Burger King employees applauded as protestors locked lips, according to El Huffington Post.
The restaurant's manager told The Local that he supports diversity and that the security guard acted without permission. He said he would like the couple to return to the establishment so he could apologize to them in person.
A Burger King corporate spokesperson was not immediately available for further comment. However, Arcópoli received a statement from the company, reading:
BKC has a long history of dedication to diversity, including support for the LGBT community. Diversity is a a driving force for our innovation and to develop an inclusive environment for everyone: employees, franchises, providers, and customers of BURGER KING(r) restaurants. The franchise that operates this BURGER KING (r) restaurant has a zero tolerance police for any type of discrimination and, upon learning of these events, has taken immediate measures to address the incident.
[top photo via Twitter]
Previously, "Hundreds of LGBT Protesters and Allies Flood UK Supermarket for Kiss-in Protest" [tlrd]