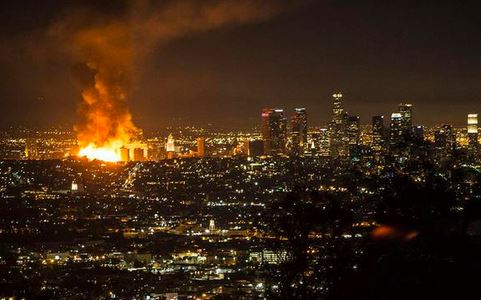 A huge fire in downtown Los Angeles engulfed an apartment building early this morning, forcing the California Highway Patrol to temporarily shut down the 101 freeway. 
USA Today reports:
"This is a historic fire, what we as firefighters would call a career fire. It's huge," Fire Department spokesman David Ortiz told NBC News. "I really can't remember a building fire this big and I have been with the department for 13 years."
The fire, which shut sections of the 110 and 101 freeways, was being fed by wood framing at a planned seven-story, 1.3 million-square-foot luxury apartment complex. Ortiz said he didn't think anyone was living or working there when the fire started.
Fire officials said two other buildings were also damaged, including several floors of a 16-story office tower.
There were no immediate reports of injuries.
Watch a CNN report on the fire, AFTER THE JUMP…
[photo via Twitter]