Santa Ana Police made new ground in the 25-year-old murder case of transgender woman Carla Leigh Salazar after DNA evidence led to a new suspect reports The Advocate. Santa Ana police arrested 63-year-old Douglas Gutridge, an acquaintance of Salazar, on Dec. 9 and charged him with Salazar's murder. in June 1989, Salazar, then 35 years old, was stabbed to death in her Santa Ana, Calif. home and the case soon went cold.
Thanks to further advances in technology, new DNA evidence was uncovered linking Gutridge to the murder. Police contacted Gutridge 18 years after the murder and Gutridge volunteered a DNA sample in 2009. However, the evidence alone was not enough to detain him. Five years later, advances in forensics place Gutridge inside Salazar's apartment at the time of the murder and show the placement of his hands on the victim's body. The new Orange County Cold Case Homicide Task Force was established in July to address the area's more than 1,000 cold cases with Salazar's case listed at the top of the task force's list; it's the team's first arrest. Salazar's friends and family never expected to see Salazar's murder solved, including friend Christine McFadden.
Said McFadden:
"She deserved justice, she didn't deserve to die. She was the total essence of love and compassion and friendship. She didn't have a mean bone in her body … When I got that call from detectives, hope came into my heart. But I won't be completely at peace until he's put away."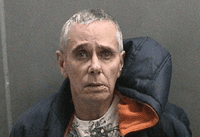 Police are currently holding Gutridge on $1 million bail and faces a maximum of 25 years to life in state prison. Gutridge's arraignment is scheduled for Jan. 2. Salazar's former husband, Robert Dougherty, expressed relief in Gutridge's arrest.
Said Dougherty:
"It's a relief. I want other families to be able to feel that too."