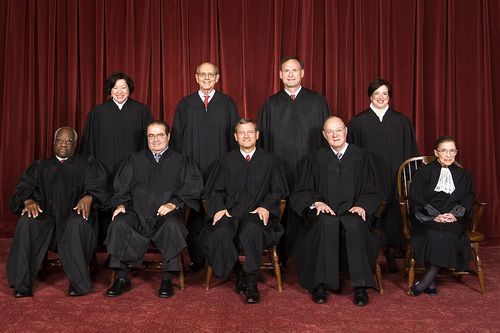 The Supreme Court of the United States will review a ruling handed down by U.S. District Judge Martin Feldman, who was the first federal judge to rule against marriage equality in the wake of SOCTUS' ruling on DOMA in United States v. Windsor. The New Civil Rights Movement reports:
Today the U.S. Supreme Court issued a notice that states on [the same day that the U.S. Fifth Circuit Court of Appeals will consider Judge Feldman's ruling], January 9, the [Supreme] Court will consider reviewing Robicheaux v. George. The Court meets several times a year, in highly secretive closed-door meetings, to consider cases to review. 
"We are grateful that the Supreme Court will be considering our case and are hopeful that they will see the importance of taking up this issue sooner rather than later," Derek Penton-Robicheaux told The New Civil Rights Movement this afternoon. "As fate would have it, we will also be in oral arguments before the Fifth Circuit Court of Appeals that same morning. What exciting way to start the new year."
Court watchers will remember that in October, the Supreme Court met and refused to review any same-sex marriage cases, leading to a flurry of states having to allow same-sex marriage, amid the dropping of several stays. Several states are still embattled in attempts to delay or ward off the inevitable.
The Supreme Court could also consider cases in the 6th Circuit, Kentucky, Michigan, Ohio and Tennessee, after that Court ruled last month that states can, indeed, ban same-sex marriage, setting up a constitutional crisis.