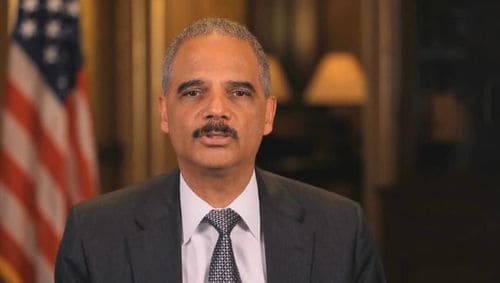 Speaking on behalf of the Department of Justice yesterday, outgoing Attorney General Eric Holder clarified the department's new official position on anti-trans discrimination being encompassed within Title VII of the Civil Rights Act of 1964.
Previously the department refused to recognize discrimination against transgender individuals as as a form of bias based upon sex, which Title VII forbids. The department's opinion of what constitutes sex-based discrimination, Holder explained, will now encompass gender identity.
"This important shift will ensure that the protections of the Civil Rights Act of 1964 are extended to those who suffer discrimination based on gender identity, including transgender status," Holder elaborated. "This will help to foster fair and consistent treatment for all claimants. And it reaffirms the Justice Department's commitment to protecting the civil rights of all Americans."
The Department of Justice has virtually stopped challenging discrimination claims filed by federal transgender employees under Title VII. Holder, however, made a point of detailing the department's rather recent history of being uncooperative in its handling of those claims it did receive. Going forward, the Justice Department's Civil Rights Division will be able to file claims under Title VII against both state and local employers accused of anti-trans discrimination.
NCLR responds:
"We applaud Attorney General Holder and the Department of Justice for taking this principled stand to ensure that all Americans benefit from the protections of our nation's anti-discrimination laws," said National Center for Lesbian Rights Legal Director Shannon Minter. "This is a huge step forward for transgender litigants and will have an extremely positive impact in cases involving discrimination against transgender employees. The Department of Justice has placed the full weight of its authority as our nation's lawyers behind the principled position that transgender people are fully protected under Title VII and other federal laws that prohibit sex discrimination." 
Back in April, the U.S. Department of Education issued a similar guidance clarifying that Title IX law protects transgender students from discrimination.