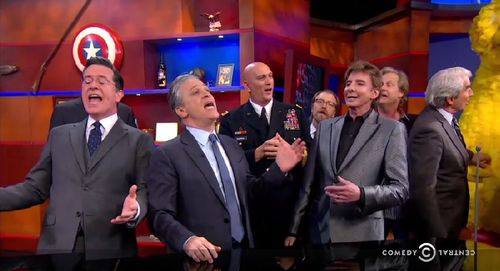 After spending nearly a decade entertaining America with his truthiness and faux-conservative flair, it was finally time to say goodbye to The Colbert Report last night. And what a goodbye it was. 
Having already become immortal earlier in the episode by killing Death during a game of chess, Colbert began his send-off with a stirring rendition of Vera Lynn's "We'll Meet Again" – joined in song by Jon Stewart, Andy Cohn, Randy Newman, Willie Nelson, Cyndi Lauper, Sen. Cory Booker, Henry Kissinger, Bryan Cranston, Tom Brokaw, Katie Couric, George Lucas, Big Bird and Cookie Monster from "Sesame Street", James Franco, Arianna Huffington, Bill de Blasio, Jeff Daniels, Barry Manilow, Charlie Rose, Kareem Abdul-Jabbar, Keith Olbermann, Andrew Sullivan, Mike Huckabee, Elijah Wood, Bill Clinton, Dan Savage, J.J. Abrams, Smaug, astronauts at the ISS, and many others.
Then, in true Colbert fashion, the late night host proceeded to embark on a journey to eternity via Santa's sleigh – accompanied by a unicorned Abraham Lincoln and Jeopardy's Alex Trebek.
Check it out, AFTER THE JUMP…
Colbert returns to take over David Letterman's hosting job at The Late Show next year.