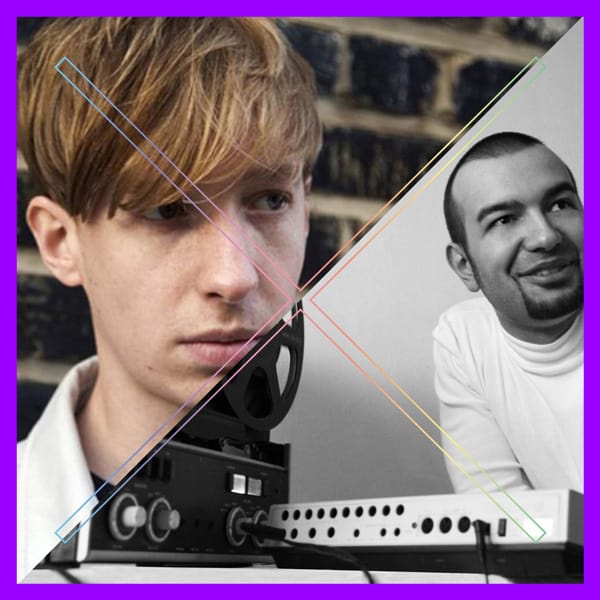 BY OCCUPY THE DISCO / TAD HAES
It gives me great pleasure to look back at my favorite releases of 2014 and realize so many of the disco/house sounds brought from the gay community's past are once again so prominent in the dance music world.  Here are my top 10 tracks of 2014, including homages to classic disco, acid house-inspired songs, and forward-thinking music that is laying the ground for what's to come in 2015. Happy Holidays!
Listen to my Top 10 Tracks of 2014 AFTER THE JUMP…
10. Stereogamous: 'Sweat'
Australian duo Stereogamous, who define themselves as major homosexualists, music lovers, serial huggers, great listeners and super gay DJs, released the amazing single 'Sweat' this year (which also features a remix by NYC's gay duo The Carry Nation). The steamy beats and vocal work by Shaun J. Wright got me hooked right away.
9. GusGus: 'Obnoxiously Sexual'
GusGus' impressive full length Mexico was in full rotation on my headphones throughout the year. Although the first single, 'Crossfade,' was a big candidate for a favorite, it was the album opener, 'Obnoxiously Sexual,''that took the highlight spot for me. It has everything I expect from GusGus and more: great energy, mature themes, sophisticated melodies, multi-instrumental arrangements and uplifting progression.
8. Hercules And Love Affair feat. John Grant: 'I Try To Talk To You (Seth Troxler Extended NYC Mix)'
Hercules And Love Affair's third studio album was a big and important release within the gay community this year. The single 'I Try To Talk To You' received a beautiful music video focused on two male dancers/lovers while Seth Troxler's remix extended the original from 4 to 8 minutes of pulsing sexual energy.
7. Dimitri From Paris feat. DJ Rocca: 'Disco Shake'
Dimitri From Paris & DJ Rocca's 'Disco Shake' is one of the three favorite tracks of 2014 I share with my OXD buddy Josh. The fast BPMs and hi-NRG mood of the release make 'Disco Shake' a memorable instant classic – a homage to orchestral disco moguls like John Davis & The Monster Orchestra.
6. Daniel Avery: 'All I Need (Remixed by Roman Flügel)'
Daniel Avery created one of my favorite albums of 2013, Drone Logic, and a second set of remixes of the excellent 'All I Need' came out this year, including an epic reinterpretation by Roman Flügel.
5. Groove Armada: 'Rescue Me'
Groove Armada has been around for nearly 20 years now and they still churn out instant classics at a rate most producers would only dream of. 2014 was a prolific year for the British duo with the release of six EPs, including Stairwell Felonies. The smash opener 'Rescue Me' brings back memories of old-time warehouse parties with its soulful elements, strong build-ups and ethereal breaks.
4. Dark Sky: 'IYP'
My experience with Dark Sky's 'IYP' was that of love at first listen. I remember hearing DJ Ryan Smith drop it at Wrecked earlier in the year and I instantly became obsessed with it, only to be lucky enough to dance to it again the following day at Mister Sunday. Soon I would find out the record actually was out on the Mister Saturday Night label and it quickly became a staple at their Sunday afternoon parties. With its punchy, gut shaking bass line, it is impossible for 'IYP' to pass by unnoticed on the dancefloor. It's one of those statement records that demands everyone's attention as soon as it is on.
3. Todd Terje: 'Delorean Dynamite'
Todd Terje's debut full length work was released this year, consolidating the Norwegian producer as one of the most prominent names in dance music. The space disco themed 'Delorean Dynamite' was one of 2014's big hits, making regular outstanding appearances on dancefloors across the city.
2. Róisín Murphy: 'Ancora Ancora Ancora (Severino & Nico De Ceglia Remix)'
Roísín Murphy had a fantastic comeback with its italian focused Mi Senti EP and I'm glad the tracks got the deserved dancefloor versions. The remix of 'Ancora Ancora Ancora' by Severino (Horse Meat Disco) and Nico de Ceglia manages to keep the original's melancholy while sparking the urge to move your body – not an easy feat – putting it side-by-side with classic records such as Donna Summer's 'Last Dance' and Odyssey's 'Native New Yorker.'
1. Daniel Avery: 'Knowing We'll Be Here (KiNK Remix)'
This year's re-work of Daniel Avery's 'Knowing We'll Be Here' by Bulgarian producer KiNK slowly became my favorite track of 2014. Although at first listen the remix is not very far from the original, the addition of dreamy synths midway through the track creates a powerful yet delicate surprise element complemented by the general "KiNK" touch up throughout the song.
OCCUPY THE DISCO (OXD) curates and recommends music events to the gay community in NYC—in an effort to move the focus of the nightlife scene beyond the promoter and venue and to the music itself. OXD's goal is to educate, entertain, engage and empower the gay audience to reclaim their ability to question and experience the unknown. The OXD Mirror will serve to showcase tunes that are definitely off-the-beaten-path but rightfully deserve the attention of the gay ear.
Follow us on Spotify!  Subscribe to our 'As Seen on Towleroad Playlist to listen to tracks posted from past weeks. For more information on OXD, check out our website and accompanying blog at www.occupythedisco.com, like us on Facebook, or follow us on Twitter: @OccupyTheDisco.