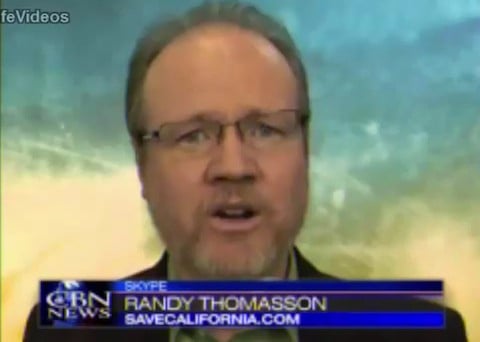 Sensing an inevitable, ultimate defeat in the federal courts, a leading anti-gay activist is calling on Republican governors to do everything in their power to prevent same-sex marriage — including deployment of their National Guards to county clerks' offices to stop licenses from being issued. 
Rght-wing news site WND reports that Randy Thomasson, president of the Campaign for Children and Families and SaveCalifornia.com, believes Republican governors in states with marriage amendments are being too soft in defending the bans. Thomasson says the standard approach of appealing pro-equality rulings to higher federal courts and issuing press releases in support of man-woman marriage simply isn't good enough. 
In a lettter to the leaders of "pro-family" groups across the country last week, Thomasson implored them to demand that GOP governors go further:  
Each governor also has an administration that serves his/her pleasure that is in charge of the state's marriage forms (licenses and applications) that county clerks use. And each governor is authorized to call out his/her state's militia or National Guard to enforce written laws and maintain public order against foreign and domestic enemies. … 

In view of the current crisis on marriage, a constitutional governor can and should do the following:

• Announce he took an oath to obey the constitution, not to obey a judge's unconstitutional opinion.

• Announce that no homosexual "marriage" licenses will be issues, and no county clerk is permitted to issue marriage licenses to anyone other than a qualified man and woman.

• Utilize the support of the state attorney general (if that constitutional officer is willing to stand alongside) or use the state's National Guard to enforce the law at county clerk's offices.
Thomasson has posted contact info for the 31 governors in states where voters approved marriage amendments, and the WND story singles out several of them — including Oklahoma's Mary Fallon, Wisconsin's Scott Walker and Florida's Rick Scott — for capitulating too easily:    
"It's worse than criminal, because criminals usually hurt one person at a time, but the governors, if they betray the people by their cowardice in the face of a constitutional crisis, then they hurt many people by being AWOL," he said. "The casualties will be the children. These Republican governors, by their own actions, are telling impressionable boys and girls 'you can aspire to have a same-sex marriage for yourselves.'

"We have self-professing pro-family, conservative governors who are actually responsible for permitting homosexual marriages in their own states," Thomasson continued. 
Last November, the American Family Association's Bryan Fischer wrote a column in which he made similar demands. Thomasson also has the backing of Peter LaBarbera of Americans For Truth About Homosexuality, who told WND he believes a governor who heeds their advice would become a hero:   
"Standing up to these courts would, I think, be good politics on the right. I would love to see it happen," LaBarbera told WND. "It's a difference between being a politician and being a statesman. I think if someone stood up to the homosexual lobby and the courts, they would achieve hero status. We keep waiting for someone and it, unfortunately, never happens." 
As ridiculous as these anti-gay bigots sound, they have their share of supporters among Republican lawmakers, particularly in Southern states where marriage equality hasn't arrived. As we reported last week, a Texas Republican has filed a bill that would declare the state sovereign on the issue of same-sex marriage. It will be interesting to see whether that bill or a similar one in another state passes, and whether a governor decides to become the new George Wallace.