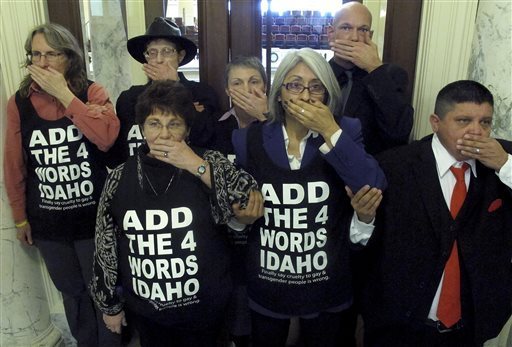 Add the Words, Idaho.
That will again be the simple message from LGBT advocates to state lawmakers as an Idaho House Committee holds the first-ever hearing on a proposal to add sexual orientation and gender identity to the state's Human Rights Act.
Hundreds are expected to testify at the hearing, which begins this morning but could last for up to three days.
The hearing comes nine years after the legislation was first introduced and is a major milestone for the colorful Add the Words, Idaho campaign, which last year staged a demonstration at the Capitol leading to dozens of arrests.
KTVB-TV reports:
This weekend training was offered at the Democratic Party headquarters to people who wish to testify at the hearing. They learned about the legislative process and what they can expect if they approach the microphone.

"A lot of people have concerns and they have questions," said Evangeline Beechler, who is the state chair of the LGBTA Democratic Caucus and helped organize the training. "We want to make sure they feel OK going in. You know this is people's livelihood, housing, employment, and it can be very scary because at this point without the 'Add the Words' bill they could lose their job." …

Chair of Add the Words Idaho, Cindy Gross, says this year it's more important then even to have their voices heard.

"Now that Idaho has marriage equality there will be more gay and transgender people going to work with a ring on their finger, and it will be more likely that they'll be discriminated against," said Gross. "It is now more important we add the words sexual orientation and gender identity to the Human Rights Act."
The hearing before the House Committee on State Affairs begins at 8 a.m. Mountain time. Watch it live here.
Watch KTVB's report, AFTER THE JUMP …