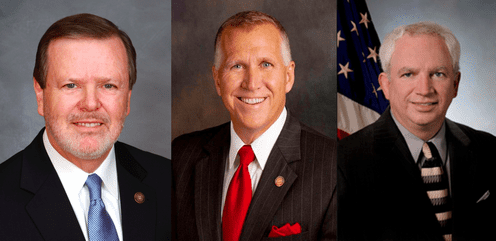 GOP lawmakers in North Carolina, joined by newly sworn in U.S. Senator Thom Tillis (above middle) and the National Organization for Marriage, are asking the Supreme Court to grant review of the ruling that brought marriage equality to the state back in October, The Washington Blade reports:
In a 35-page filing, the top lawmakers in the state legislature — President Pro Tempore of the Senate Phil Berger and Tillis in his capacity as House speaker — make the case for review in a petition for certiorari before judgment.
"The current push to redefine marriage to encompass same-sex relationships would remove several of the other key components of the institution of marriage," the brief states. "It would remove biological complementarity, therefore depriving a significant number of children of being raised by both of their biological parents and removing them from a structured household with both masculine and feminine influences."
The petition is an unusual move because the federal appeals court considering the lawsuit, in this case the U.S. Fourth Circuit Court of Appeals, has yet to issue a decision on lawmakers' appeal of the marriage ruling.
But lawmakers argue that Supreme Court review of the North Carolina case at this stage is warranted because the Fourth Circuit already erred in its decision against Virginia's ban on same-sex marriage by ignoring the 1972 decision of Baker v. Nelson, a marriage equality case the Supreme Court refused to hear for lack of federal question.
Earlier this week, the Supreme Court declined to hear a similar petition for certiorari before judgement from Louisiana. The high court is expected to announce whether it will take up a Sixth Circuit case tomorrow.
Read North Carolina's petition below via Equality Case Files: