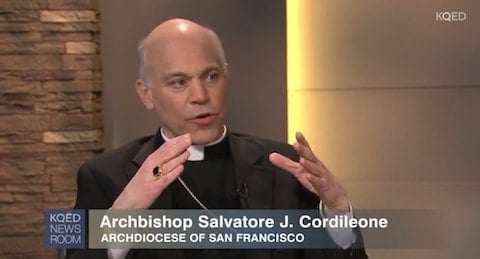 Earlier this month, we reported on San Francisco Archbishop Salvatore Cordileone's new "purity test" for Catholic schools that threatens termination for teachers who give any statement that contradicts church doctrine, including holding a position that homosexuality is anything other than "gravely evil."
Drunk driver Cordileone's anti-gay crusade goes even further, however, as The New York Times reports:
Part of the focus here and elsewhere appears to be online sharing of photos and personal opinions. A number of morality clauses in other dioceses express such concerns, specifying that teachers may not post anything on Facebook or Twitter that contradicts church teachings.
Archbishop Cordileone said that teachers who crossed doctrinal lines would be dealt with "on a case-by-case basis." Asked if a teacher could post photos on Facebook of her gay son's wedding, he said that "if someone was upset and reported it," then "the person with the Facebook page would have to be talked to."
A protest vigil against the new "purity test" was held outside St. Mary's Cathedral earlier this month.