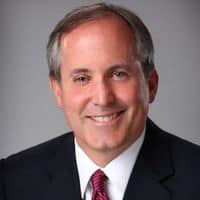 Texas Attorney General Ken Paxton has issued a statement blasting Travis County Probate Judge Guy Herman's Tuesday ruling overturning the state's ban on same-sex marriage. 
Herman's ruling opened the door for the first same-sex marriage in Texas to take place earlier today in Travis County. 
Said Paxton:
"Texas law is clear on the definition of marriage, and I will fight to protect this sacred institution and uphold the will of Texans, who voted overwhelmingly in favor of a constitutional amendment defining the union as between one man and one woman. The probate judge's misguided ruling does not change Texas law or allow the issuance of a marriage license to anyone other than one man and one woman."
No response yet from U.S. Senators Ted Cruz and John Cornyn or Gov. Greg Abbott. Or ex-Governor Rick Perry. 
Stay tuned.