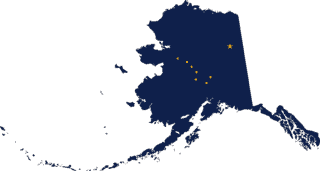 The joint council representing the indigenous Tlingit and Haida Indian Tribes of Alaska have unanimously agreed to amend traditional tribal laws in order to recognize same-sex marriages.
"We are pleased to expand our Tribal Court to meet the needs of our tribal citizens," said Tribal Court Chief Justice Debra O'Gara in a prepared statement. "Our court can now be utilized by tribal citizens for the happy occasion of marriage without discrimination and regardless of gender."
The Tribal Council's new decision will maintain the tradition of requiring that at least one member of a couple be an active and enrolled member of the Central Council of Tlingit and Haida Indian Tribes.
According to Tribal President Richard Peterson there was no one couple in particular that was agitating for the change in tribal law, but rather the Council's decision came at a time that felt right and in accordance with the public's current spirit.