Former Ohio solicitor general Ben Mizer has been promoted to Acting Assistant Attorney General for the Civil Division by U.S. Attorney General Eric Holder. Mizer is one of more than a dozen out gay lawyers Holder and the Obama administration have appointed to senior positions at the Department of Justice, according to The Victory Fund.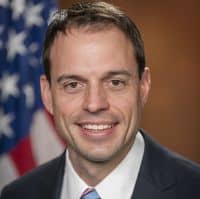 "Ben Mizer's unassailable integrity, sound judgment and steadfast commitment to the mission of this department are just a few of the reasons he's been chosen to serve as the new Principal Deputy Assistant Attorney General and Acting Assistant Attorney General for the Civil Division – a critical and demanding post, and one in which he will undoubtedly thrive," said Attorney General Holder in a statement. "Ben's work here in Washington and as Solicitor General for the state of Ohio has put him in some of the most challenging and demanding positions a lawyer can encounter.  But in every instance, Ben has repeatedly demonstrated that he is both a gifted lawyer and a capable leader."
If confirmed, Ben would be the second most senior openly gay official at the Department of Justice. Stuart F. Delery, the gay senior Justice Department lawyer who successfully argued against the Defense of Marriage Act on behalf of the Obama Administration back in 2012 and previously served as head of the Civil Division, was promoted to Associate Attorney General back in September. Delery is the department's no.3 lawyer and the highest-ranking openly gay official to ever serve in the DoJ.