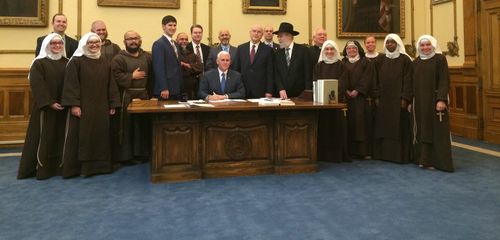 As thousands marched outside the Indiana Statehouse on Saturday to protest the state's new law allowing individuals to discriminate on religious grounds, Gov. Mike Pence announced he will support the introduction of legislation to "clarify" the controversial Religious Freedom Restoration Act.
To what extend this "clarification" will alleviate growing fears among LGBT Hoosiers remains unclear however and LGBT groups so far aren't buying it.
Tweeted HRC President Chad Griffin:
.@GovPenceIN If IN truly doesn't discriminate, prove it. Protect your LGBT citizens truly at risk like other states do. @JohnRussell99

— Chad Griffin (@ChadHGriffin) March 29, 2015
Freedom Indiana is also calling bull, with campaign manager Katie Blair issuing the following statement:
"You can't 'clarify' discrimination. Indiana now has billions of dollars and thousands of jobs on the line, all because the Governor wouldn't stop this dangerous bill. He has a second chance to save our reputation for Hoosier hospitality, but he has to stand up and protect LGBT Hoosiers. 
"Discrimination is not a core Hoosier value, and we can't afford to let our state continue to suffer. Please, Governor, listen to the voices of common sense and reason trying to get through to you. Fix the bill to protect all Hoosiers, and make it clear our state is open for business again."
Lamba Legal too:
.@GovPenceIN if you really meant Indy's #RFRA isn't about discrimination, it can easily be fixed in 2 steps by adding this language:

— Lambda Legal (@LambdaLegal) March 29, 2015
This chapter doesn't establish or eliminate a defense 2 a claim under any fed/state/local law protecting civil rights or preventing discrim

— Lambda Legal (@LambdaLegal) March 29, 2015
And include gay and transgender people within Indiana's protections for discrimination.

— Lambda Legal (@LambdaLegal) March 29, 2015
When
asked yesterday
whether his "clarification" will include making sexual orientation a protected legal class in Indiana, Pence replied, "That's not on my agenda."