In a lengthy profile for Fortune magazine, Apple CEO Tim Cook revealed he will be donating nearly all of his multi-million dollar fortune to charity: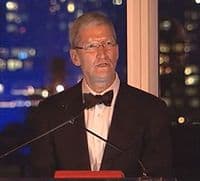 To Cook, changing the world always has been higher on Apple's agenda than making money. He plans to give away all his wealth, after providing for the college education of his 10-year-old nephew. There should be plenty left over to fund philanthropic projects. Cook's net worth, based on his holdings of Apple stock, is currently about $120 million. He also holds restricted stock worth $665 million if it were to be fully vested. Cook says that he has already begun donating money quietly, but that he plans to take time to develop a systematic approach to philanthropy rather than simply writing checks.
Cook also discussed his decision last year to come out as gay:
Looking back, he says that he primarily acted out of concern for kids who were bullied at school, some to the point of suicide, and because of the many states that still allow employers to fire workers over their sexual orientation. Also, whereas U.S. courts were moving surprisingly quickly on the issue, "I didn't feel like business was exactly leading the way in the executive suite."
Cook says that he'd come to the decision of coming out "quite some time ago" and that his announcement was viewed internally at Apple, where his sexual orientation was more or less well known, as a "yawner." Speaking out so publicly was a big step for Cook, though, who has described himself as intensely private and who is rare among big-company CEOs for being genuinely ill at ease talking about himself. "To be honest, if I would not have come to the conclusion that it would likely help other people, I would have never done it," he says. "There's no joy in me putting my life in view."
Cook remains the only openly LGBT CEO in the Fortune 500.
Read the full Fortune piece here.