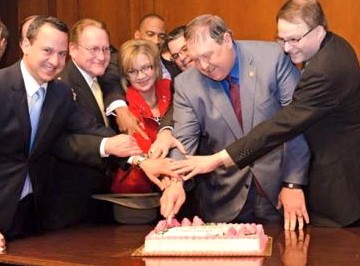 An anti-LGBT Texas lawmaker's staff refused to meet with a gay constituent last month, saying it would be "a waste of time."  
Back in February, we told you how GOP state Rep. Molly White (shown above cutting anti-gay hate cake) posted an Islamophobic rant on Facebook during Muslim lobby day at the Texas Capitol. 
White's rant prompted Equality Texas, the statewide LGBT group, to drop off a gay Pride flag at her office, saying: "There are many flags that celebrate the diversity and unity of TX. We decided to help build Rep White's collection."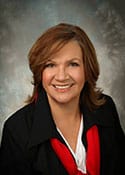 Shortly thereafter, White (right) filed two draconian anti-LGBT bills — one that would allow business owners to discriminate based on religious beliefs, and another seeking to exempt Texas from a U.S. Supreme Court ruling in favor of same-sex marriage. 
On March 27, during Equality Texas' Family Advocacy Day, gay constituent Frank Carlson was part of a group that went to White's office to try to meet with her staff, according to The Temple Daily Telegram. But Carlson said the group was told that no one was available to meet with them. 
When the group indicated they were from Equality Texas, White's chief of staff, Hannah Bell, told them to "drop their literature and leave." When Carlson said they had personal stories to share, including one from a PFLAG mother, Bell responded that it would be "a waste of time." According to the Daily Telegram, Bell confirmed the group's account. 
"I conveyed that the representative has stances on some issues and that she isn't likely to change her mind on them," Bell said. "We try to be a transparent office and I told them that they needed to meet with individuals that shared their viewpoint."
Janet Adamski, a political science professor at the University of Mary Hardin-Baylor, told the Daily Telegram it's unusual for a lawmaker's staff to refuse to meet with constituents, regardless of their views. 
Chuck Smith, executive director of Equality Texas, called the action's of White's staff "rude, insensitive and inappropriate."
"Rep. White was elected to represent all of her constituents, even those whose views she doesn't share," Smith told the newspaper. "It may not be her job to agree with all of her constituents, but it is her job to listen to them."
As it turns out, on the very same day, White found time to attend an anti-gay rally at the Capitol featuring Alabama Chief Justice Roy Moore. 
Equality Texas has another lobby day scheduled Monday, so it will be interesting to see if any groups try to visit White's office.