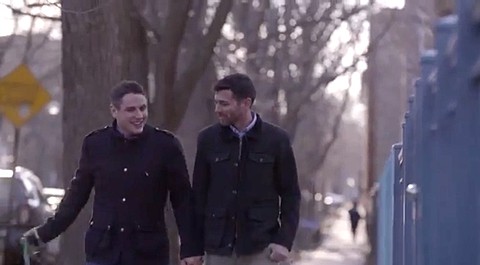 Three weeks ago, Nathan Johnson and Jared Milrad were asked to participate in a video featuring Americans ready to start a new chapter in their lives. Little did they know the footage of the two of them excitedly talking about their upcoming nuptials would be featured in the launch video for Hillary Clinton's 2016 presidential campaign.
"We were really excited to see that our interview was featured in the campaign announcement," Milrad told the Washington Blade. "It was particularly moving to see Secretary Clinton feature a gay couple engaged to be legally married, the first of any major presidential candidate. To us, this decision demonstrates Secretary Clinton's commitment to LGBT equality and the type of inclusive leader she would be as president." 
The couple, who split their votes between Clinton and Barack Obama back in 2008, are now hoping the former First Lady can take part in their wedding July 19. 
Thanks for inviting us to your big day @HillaryClinton. We're returning the favor & inviting you to ours. #wedding pic.twitter.com/paMtBFLLUW

— Jared Milrad (@JaredMilrad) April 12, 2015
More on the couple here.