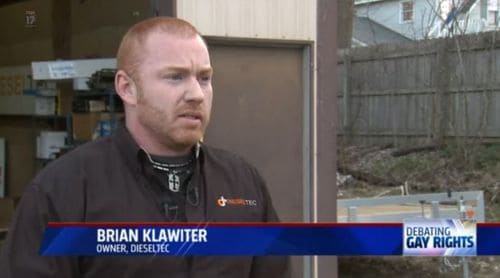 As you can probably guess Brian Klawiter, the owner of Dieseltec in Grandville, Michigan who sparked a firestorm earlier this week for a Facebook post stating he "would not hesitate to refuse service to an openly gay person or persons," isn't exactly the sharpest tool in the shed/auto shop. 
Klawiter who according to MLive "looked frazzled" at his shop Thursday morning and "seemed surprised his Facebook comments had received so much attention," has claimed he himself has become the victim in this controversy he created.
There's also this (since edited) follow-up Facebook post that probably didn't help cool things down either:
Listen up folks, If you have an opposing view to mine that IS OK, what is NOT OK is threats to kill me, my family, and friends; threats to burn down my shop and my home. I will stand firm on my views and will not back down, (There also seems to be a TON of confusion about one of my comments, the bolt and nut thing was a reference to physiology, bolt penis and nut vagina. I DID NOT threaten to purposely put a vehicle together wrong to harm someone.) I also am not asking for anyone to do the gofundme postings. We are a successful business and are blessed to be able to feed our families. If there is any money raised it will be redistributed to people with greater needs than ours.

Cummins, a Fortune 500 company that manufactures engines and other auto parts, has already asked Klawiter to stop using its logo on Dieseltec ads.
@ThirtyBirdy At Cummins, diversity is a core value. We are not affiliated with this business and are notifying them to stop using our logo.

— Cummins Inc. (@Cummins) April 16, 2015
No official word yet from Power Stroke Diesel or Duramax Diesel, the two other companies pictured in the above image. Can't imagine they want to be affiliated with such bigotry though, especially with the flood of one-star Yelp reviews coming in…