The following piece is an excerpt from It's Not Over: Getting Beyond Tolerance, Defeating Homophobia, & Winning True Equality by Michelangelo Signorile. Signorile hosts The Michelangelo Signorile Show on SiriusXM radio, serves as editor-at-large at Huffington Post Gay Voices, and has published several books.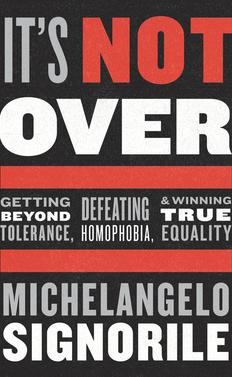 It's Not Over is uncannily-timed given the recent proliferation of "religious liberty" bills around the country; it's a warning to those fighting for LGBT equality not to think the battle is over too early — not to succumb to "victory blindness" as Signorile aptly calls it. The book is also a primer for activism in the next phase of the LGBT rights movement, in which advocates for equality, having secured a number of substantive wins, must face a wave of conservative backlash that is already beginning.
Check out our talk with Signorile last week for additional information on the issues discussed in the book, and please enjoy the excerpt that follows.
HOW TRUE ARE THOSE BREATHLESS POLLS?
IN recent years public-opinion polls and surveys have shown a dramatic shift in support for LGBT rights, including marriage equality. In one widely reported 2013 poll, for example, Pew Research announced that "ten years ago [in 2003], 37% viewed gay men favorably, while 51% viewed them unfavorably; 39% had a favorable impression of lesbian women while 48% had an unfavorable opinion. Today, by a 55% to 32% margin, more have a favorable than unfavorable opinion of gay men. And about twice as many view lesbian women favorably (58%) than unfavorably (29%)." These poll results were breathlessly reported in the media, along with polls showing increasing support for marriage equality. But how much of this shift reflects a true change in beliefs? It may simply suggest that homophobia is assuming a shadowy but no less insidious status, that it is not publicly stated but privately held, and may even be unconscious.
Recent research suggests that, while people say they're more supportive, the change in underlying biases about gays has been "pretty small," according to Rachel Riskind, a social science researcher and assistant professor of psychology at Guilford College in North Carolina. Riskind and her colleagues have done a great deal of research on this question and have also investigated the threat that gender- identity difference poses, particularly to heterosexual men. They used data from the Implicit Association Tests (IATs) of Project Implicit, a joint project created by Harvard University, the University of Washington, and the University of Virginia. Founded by social scientists Anthony Greenwald, Mahzarin Banaji, and Brian Nosek, Project Implicit has amassed data since 1998, including data collected from the project's website. While not random, representative samples, the data sets are massive. More than fourteen million people have taken the tests in categories such as race, sex, gender, and sexual orientation.
In IATs, subjects are shown images and words on a computer screen and asked to quickly make associations, which can be positive or negative. Usually subjects are prompted to match an image with words like good or bad, but often slightly more complex tests are used. In some cases, participants are provided with information and then answer questions based on it. By measuring the reaction time of subjects while they perform these exercises, IATs assess the presence of attitudes that influence the subjects' answers, biases they may or may not know they hold.
These biases can be classified as explicit or implicit. Explicit attitudes, as the term suggests, are those beliefs and thoughts people express publicly. Implicit attitudes are those which people hold privately, either consciously or unconsciously. "When we talk about implicit attitudes, we're talking about unconscious control or something you're aware of that you don't want to tell people," Riskind explained.
CONTINUED, AFTER THE JUMP…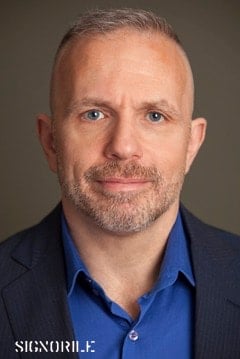 Project Implicit's deep well of data allows scientists to draw conclusions that elude most polls. Over the past few years, the research increasingly shows that, while people have changed their explicit attitudes about race and gender — that is, what they will tell a pollster, or even a friend, when asked if they support equality — privately held beliefs and biases have changed much more slowly, even among younger generations.
The same is holding true for sexual orientation and gender identity. Riskind said that the data sets she and her team are studying in an ongoing research project provide a diverse sample. Thirty percent of respondents were nonwhite, though the subjects were slightly more male and tended to be better educated than the general population. Again, the researchers are using hundreds of thousands of data points to draw sound conclusions. "I think the most striking thing," says Riskind, "is that political identity is one of the strongest predictors of implicit attitudes."  In other words, self-identified conservatives tended to show more implicit bias than others. Riskind's research has also shown that heterosexuals, on average, exhibit an implicit bias or "preference" for heterosexuals, as do even some self-identified gay, lesbian, and bisexual people, whose bias exposes what might be internalized homophobia.
Taking the Gay–Straight IAT on the Project Implicit website in April 2014, a subject would learn that 68% of those who'd taken it previously were biased toward straights, showing either a "slight automatic preference to straight people compared to gay people" or a "strong automatic preference for straight people compared to gay people." Riskind and her team are also looking at change over time in their ongoing research.
"Our goal was to say, 'Okay, the public polls say there's been change in explicit attitude. What about implicit attitudes?' " Riskind explained. They found that, as with race and gender, positive changes in explicit attitudes toward sexual orientation and gender identity far outnumber changes in implicit bias. "Implicit attitudes changed, but it's pretty small. It's about half of the size in the change in explicit attitudes. It may be telling us that there are more people who are unwilling to report antigay attitudes."
In her research, Riskind is also pursuing answers to the triggers at the root of homophobia and transphobia. In 2014, Riskind and two colleagues — David J. Lick and Kerri L. Johnson, both professors of psychology at the University of California, Los Angeles — published the results of four studies they conducted, looking at the threat that gender identity posed to straight men. They were particularly interested in how straight men react to men who are gender variant (a category that includes "effeminate" or "stereotypical" gay men) and to gender-nonconforming individuals or those perceived to be trans- gender, either trans men or trans women. The studies didn't use IAT images of same-sex intimacy, as the implicit-bias study of gays and bisexuals did, but rather presented subjects with photos of faces of various kinds, including faces of gender-nonconforming individuals. "Four studies documented that straight men who feel insecure about their masculinity have heightened recognition of gender-atypical faces. We therefore argue that gender identity concerns play an important role in social vision, arousing perceptual biases that have implications for how men attend to and remember others in their social environments," the researchers concluded.
This research built upon other recent studies that showed men's sense of masculine identity is often threatened by encounters with gender-nonconforming individuals, making them self-conscious of the perception of their own gender. Another series of recent studies provided scientific confirmation that straight men often expressed anxiety about the idea of being falsely identified as gay, and because of that they avoided gay men. This research, published in 2013, affirmed the continued validity of 1990s studies that showed straight men who interacted with gay men were later avoided by other straight men or were perceived by other straight men to be exhibiting behavioral tendencies associated with gay men.
"Specifically, we propose that straight men who feel insecure about their masculinity may remember gender-atypical faces in order to avoid socially contagious interactions and to strengthen their feelings of gender identity," Riskind, Lick, and Johnson concluded. "Straight men unconsciously attend to gendered facial cues, processing gen- der-atypical others with remarkable efficiency when they have an insecure sense of their own masculinity." The researchers concluded that straight men who feel threatened about their masculinity avoid gender-nonconforming people and men they perceive as gay.
Excerpt from IT'S NOT OVER by Michelangelo Signorile by Houghton Mifflin Harcourt. Copyright © 2015 by Michelangelo Signorile. Used by permission of the author. All rights reserved.