After a protracted conformation, the Senate has approved Loretta Lynch as U.S. Attorney General, The New York Times reports: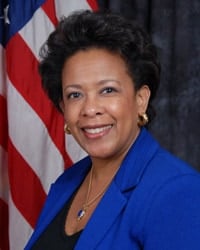 Some conservative groups had called on Senate Republicans to block a vote on Ms. Lynch altogether because of her stance on the president's immigration policies. Many Senate Republicans feared the party would face serious political repercussions if it blocked an African-American woman with strong credentials and enthusiastic support from many in law enforcement.
Opponents still forced a procedural vote before her final confirmation, an unusual requirement for such a high position. The nomination moved along easily, by a vote of 66 to 34.
"She is a historic nominee, but also Senate Republicans are making history," said Senator Patrick J. Leahy, Democrat of Vermont. "And I would say for the wrong reasons." He added: "I can only hope that Senate Republicans will show her more respect as the attorney general of the United States than they did as a nominee. She has earned this respect. Her story is one of perseverance, of grace and grit."
The vote also served as a lens on the 2016 elections. "The Republican majority if it so chose could defeat this confirmation," said Senator Ted Cruz of Texas, a Republican presidential candidate, who called Ms. Lynch "lawless."
Lynch is the first African-American female U.S. Attorney General. Lynch will replace Eric Holder in November. 
The Washington Post lists the ten GOP Senators who voted to confirm Lynch's nomination as Kelly Ayotte (NH), Thad Cochran (MS), Susan Collins (ME), Jeff Flake (AZ), Lindsey Graham (SC), Orrin Hatch (UT), Ron Johnson (WI), Mark Kirk (IL), Rob Portman (OH) and Mitch McConnell (KY).