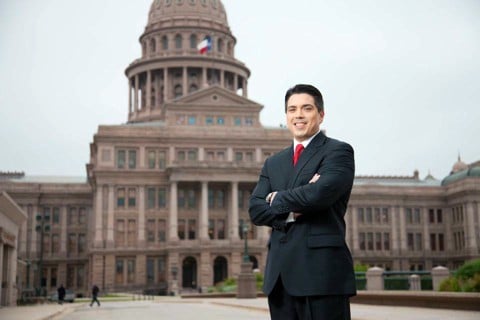 Following Oklahoma's lead, a Texas Republican lawmaker has removed LGBT protections from a bill regulating vehicle-for-hire services like Uber and Lyft. 
The nondiscrimination provision in the original version of House Bill 2440, by GOP Rep. Chris Paddie (above), read as follows: 

During a committee hearing last week, Paddie introduced a substitute version of the bill with this nondiscrimination provision: 


Of course, neither Texas nor federal law includes LGBT protections. Paddie's office didn't respond to phone calls and emails seeking comment.
"That the non-discrimination provision was included in the draft is a sign of the changing landscape in Texas," Equality Texas legislative specialist Daniel Williams told Towleroad. "We're not there yet, but the fact that the bill was introduced with inclusive non-discrimination protections shows the increasing bipartisan support for equality."
Debbee Hancock, a spokeswoman for Uber in Texas, pointed us to the nondiscrimination policy in the company's Code of Conduct, on which the original version of the bill apparently was based.
"It is unacceptable to refuse to provide or accept services based on a person's race, religion, national origin, disability, sexual orientation, sex, marital status, gender identity, age or any other characteristic protected under applicable federal or state law," the policy states. "This type of behavior can result in permanent loss of access to the Uber platform."