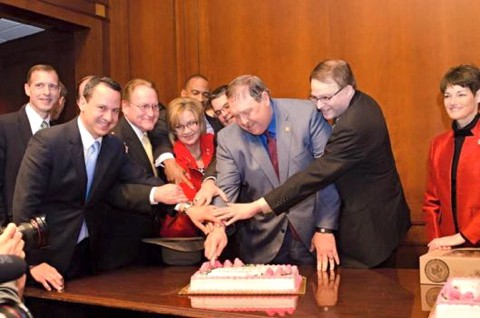 Texas GOP lawmakers (shown above cutting anti-gay hate cake) are poised to push through a bill seeking to exempt the state from a U.S. Supreme Court ruling in favor of nationwide marriage equality. 
The House is scheduled to vote Tuesday on House Bill 4105, by GOP Rep. Cecil Bell, which would prohibit state funds from being used to issue or recognize same-sex marriage licenses, regardless of any court order.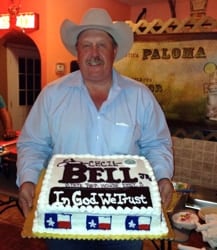 In addition to Bell, the bill has 77 co-authors in the House, more than the simple majority of the chamber's 150 members needed for passage. LGBT advocates have previously said that if HB 4105 passes the House, it will easily clear the Senate before being signed by anti-gay GOP Gov. Greg Abbott. However, unless it receives a two-thirds majority in both chambers, HB 4105 wouldn't take effect until Sept. 1, two months after the high court hands down its ruling. 
In an indicator of the animus behind the measure, one witness compared gays to murderers and same-sex marriage to the Holocaust during a committee hearing on HB 4105 last month. 
The bill is the first of more than 20 anti-LGBT bills in Texas to be scheduled for a vote by the full House. On Monday, the Senate is likely to pass another measure designed to protect pastors and churches from being forced to participate in same-sex weddings. LGBT advocates have said they will support the bill protecting pastors and churches if it is amended so that it merely mirrors existing protections, but that has not yet happened. 
Should you wish to contact members of the Texas House about HB 4105, their info is here. Just don't send them any glitter bombs.  
UPDATE: Below is a press release about Tuesday's vote from pro-LGBT groups: 
Civil liberties and LGBT rights organizations today joined in warning the Texas House of Representatives against passage next week of legislation intended to subvert a potential U.S. Supreme Court ruling on marriage and lock in discrimination against gay and lesbian families.
HB 4105 by state Rep. Cecil Bell, R-Magnolia, is set for debate and a vote on the floor of the Texas House of Representatives on Tuesday, May 12.
The bill would prohibit local and state officials from granting, enforcing or recognizing marriage licenses for gay and lesbian couples, and it bans public funding from being used to do so. The bill's supporters have said their goal is to defy a potential Supreme Court ruling striking down the state's ban on same-sex marriage.
HB 4105 is one of more than 20 proposed bills in the Texas Legislature that would enshrine in state law discrimination against gay and transgender Texans.
Chuck Smith, executive director, Equality Texas
"Extremist lawmakers in Texas are trying to preserve the right to discriminate no matter what the Supreme Court might say about marriage. Passing this bill would make Texas look intolerant and unwelcoming and would harm the state. It must be rejected.
Kathy Miller, president, Texas Freedom Network
"This irresponsible and mean-spirited bill doesn't just put Texas on a collision course with a potential Supreme Court ruling. Its passage would also bring national condemnation by attempting to lock in discrimination against gay and lesbian couples who simply want to make a lifetime commitment and protect their families the same way everyone else does. It's clear that some of the folks at the Texas Capitol learned little from the way Indiana's lawmakers wrecked their state's national reputation with their own discriminatory legislation this spring."
Terri Burke, executive director, American Civil Liberties Union of Texas
"This end-run play to subvert a Supreme Court ruling on same-sex marriage, to which the State of Texas would be constitutionally bound, makes Texas a laughingstock and flies in the face of Texas values. A statewide poll released this week found that two-thirds of Texans support laws to protect gay and transgender people from discrimination. Meanwhile, lawmakers like Cecil Bell want to unleash an Indiana-style discrimination firestorm. Reasonable Texas legislators need to step forward and stop this shameful attack on LGBT Texans."
Nick Hudson, state director, Texas for Marriage
"This legislation is out of step with the majority of Texans who believe marriage is a fundamental freedom that should not be denied to anyone. House Bill 4105 is discriminatory, and this attempt to create a barrier against the direction in which Texas and America is heading is shameful, backwards and mean-spirited. We are disappointed that Representative Bell would rather spend his time enshrining discrimination into Texas law rather than serving his constituents and promoting freedom."
Marty Rouse, national field director, Human Rights Campaign
"This bill has nothing to do with Texas values and has everything to do with enshrining discrimination into state law. At a moment when people across this state—and across the country—are calling for all people to be treated fairly, the Texas Legislature must not send this state backwards with dangerous and hostile Indiana-style legislation."