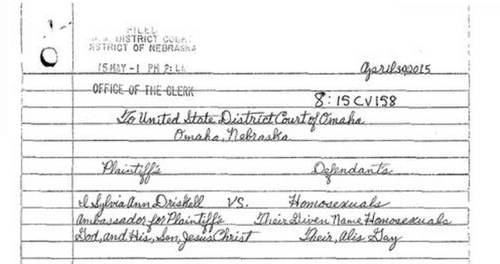 You can put down that subpoena and breathe a sigh of relief because the federal lawsuit filed by a Nebraska woman (on behalf of God and Jesus Christ) against all homosexuals has just been thrown out, the Omaha World-Herald reports:
In a strongly worded opinion, [Judge John Gerrard] said it is not up to the court to decide whether homosexuality is sinful.
Gerrard said Driskell lacked subject matter jurisdiction and cannot sue a class of unidentified defendants. Driskell did not set forth a factual or legal basis for a federal claim.
"The United States Federal Courts were created to resolve actual cases and controversies arising under the Constitution and the laws of the United States," Judge Gerrard said. "A federal court is not a forum for debate or discourse on theological matters."