The chaplain of Hillsdale College sent an email to alumni, students, faculty, coaches and athletes warning them about the "evils" of same-sex marriage and inviting prayer to "destroy" same-sex marriage reports outsports.com. Hillsdale alumni Derek Schell (below), who came out to his basketball team in 2013, received the chaplain's email: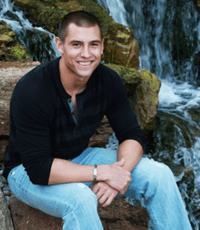 "Hey friends!
Just to give you a heads up, ugly things are happening in the Supreme Court right now. Justice Anthony Kennedy is seen as the "swing vote" and, if that is the case, he will have the power to legalize same-sex marriage NATIONWIDE! Yeah… I do not even think we can imagine the effects this could have on our nation, the church, and families.
So we are praying for God to give the Justices and the courts wisdom, courage, and discernment, for evil to be revealed and destroyed, and for a heart of love and sound mind."
However, a statement from college officials claim a student initially wrote the email, but Chaplain Peter Beckwith still distributed the email; it remains unclear if Beckwith had read the contents of the email before distributing it. Hillsdale College Provost David M. Whalen also issued a statement regarding the email yesterday and announced that revisions of pertinent communications policies are underway:
"The tone and language of the email did not properly represent our commitment to thoughtful inquiry and civil discussion as necessary to the pursuit of truth. We have a long history of treating all students with love and respect, and our Honor Code requires our students to do likewise."