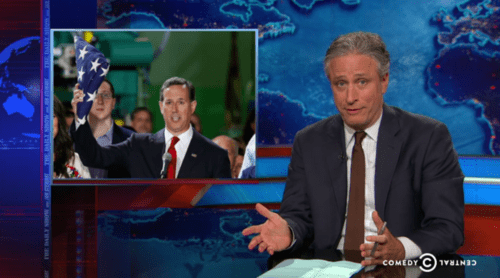 With Rick Santorum, George Pataki, Lindsey Graham, Bernie Sanders, and Donald Trump all either officially entering the 2016 race or expressing their interest in doing so recently, Jon Stewart is a little upset he'll be missing out on the fireworks once he leaves The Daily Show in August.
"Guys, I appreciate the effort. My mind's made up, I'm leaving the show…How much fun could you really have covering this thing?" Stewart joked. 
Enter one Rick Santorum, a piece of coal, and a folded American flag. 
Watch, AFTER THE JUMP…