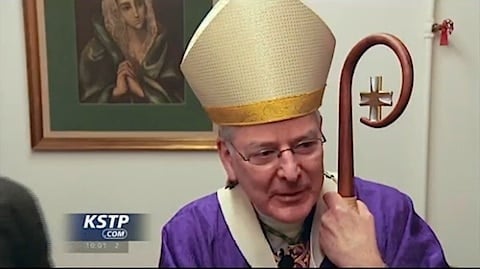 John Nienstedt, the Archbishop of St. Paul and Minneapolis, has resigned after prosecutors filed criminal charges against the Twin Cities' archdiocese this month for its role in "failing to protect children" from predatory priests.
Nienstedt, who spearheaded an anti-gay DVD mailer campaign in 2010, told the mother of a gay son that she must reject him or risk burning in hell, and claimed Satan is behind same-sex marriage, was himself accused of inappropriately touching an underage male back in 2013.
The Guardian reports:
The Vatican said on Monday that Pope Francis accepted the resignations of Archbishop John Nienstedt and auxiliary bishop Lee Anthony Piche. They resigned under the code of canon law that allows bishops to resign before they retire because of illness or some other "grave" reason that makes them unfit for office.
Earlier this month, prosecutors charged the archdiocese of St Paul and Minneapolis as a corporation of having turned a blind eye to repeated reports of inappropriate behaviour by a priest who was later convicted of molesting two boys. No individual was named in the indictment.
The resignations came just days after Francis approved the creation of a new tribunal inside the Vatican to hear cases of bishops who failed to protect children from sexually abusive priests.
Nienstedt released the following statement regarding his resignation:
In order to give the Archdiocese a new beginning amidst the many challenges we face, I have submitted my resignation as Archbishop of Saint Paul and Minneapolis to our Holy Father, Pope Francis, and I have just received word that he has accepted it. The Catholic Church is not our Church, but Christ's Church, and we are merely stewards for a time. My leadership has unfortunately drawn attention away from the good works of His Church and those who perform them. Thus, my decision to step down.
It has been my privilege the last seven years to serve this local Church. I have come to appreciate deeply the vitality of the 187 parishes that make up the Archdiocese of Saint Paul and Minneapolis. I am grateful for the support I have received from priests, deacons, religious men and women and lay leaders, especially those who have collaborated with me in the oversight of this local Church.
I leave with a clear conscience knowing that my team and I have put in place solid protocols to ensure the protection of minors and vulnerable adults.
I ask for continued prayers for the well-being of this Archdiocese and its future leaders. I also ask for your continued prayers for me.