Just two weeks after introducing a bill to ban shirtless men in public, Russia's leading homophobic troll has set his beady little eyes on HBO's fantasy mega-hit Game of Thrones. 
RT reports: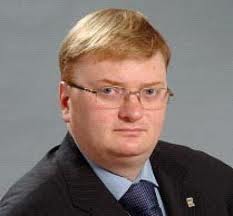 Vitaliy Milonov of the St. Petersburg city legislature addressed the Russian Culture Ministry with an initiative to develop the "concept of defending the national information space," the popular Russian daily Izvestia reported on Monday.
The essence of Milonov's draft is that the authorities issue a rating for all creative works, giving them "quality marks" if they match the nation's traditional values, and attaching negative appraisals to potentially harmful products. The lawmaker holds that the general public will bear this rating in mind when making choices regarding entertainment.
In comments with Izvestia, Milonov said that virtually all Western cultural products were destructive for Russian traditional values and this especially applied to many famous works. […]
The lawmaker said that the cult US television series Game of Thrones was a typical example of such a harmful product. He blamed the authors for picturing "every tenth character" of the series as having some sexual deviation and suggested this was done on purpose, so that the public saw such deviations as the norm.
Milonov admitted in the interview that he had not seen a single episode of Game of Thrones, so presumably he has also not seen this compilation video of all of the show's most homoerotic Night's Watch moments from the show.
Perhaps Milonov just watches the weekly "Gay of Thrones" recap videos and heard about all the debauchery through that?