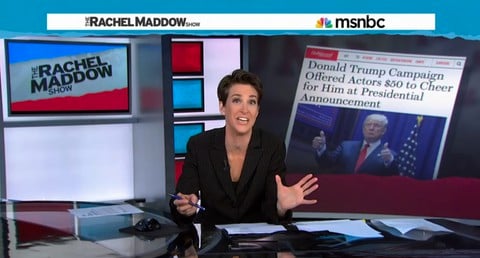 Late Wednesday came news that Presidential hopeful Donald Trump paid actors $50 each to attend his presidential announcement and "cheer him on."
According to The Hollywood Reporter, Trump used a service used to cast extras to fill his campaign announcement to the brim with so-called "supporters":
New York-based Extra Mile Casting sent an email last Friday to its client list of background actors, seeking extras to beef up attendance at Trump's event.

"We are looking to cast people for the event to wear t-shirts and carry signs and help cheer him in support of his announcement," reads the June 12 email, obtained by The Hollywood Reporter. "We understand this is not a traditional 'background job,' but we believe acting comes in all forms and this is inclusive of that school of thought." (Read the full email at the bottom of the post.)
The news was particularly shocking because Trump touted the prowess of his event and its turnout during his speech. Said Trump,
This is beyond anybody's expectations. There's been no crowd like this. And I can tell you, some of the candidates, they went in, they didn't know the air conditioner didn't work. They sweated like dogs. They didn't know the room was too big because they didn't have anybody there. How are they going to beat ISIS?
MSNBC anchor and commentator Rachel Maddow has been baffled by Trump's candidacy and dug into this latest revelation about Trump's campaign chicanery on Wednesday night's TRMS. Is he a real candidate or is this all one big PR stunt, Maddow wondered.
Watch Rachel's sweeping examination of Trump's candidacy so far and the allegations of hiring actors to pose as campaign supporters below: