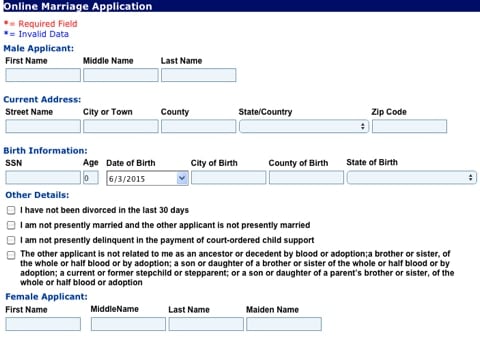 Now that all the anti-LGBT legislation introduced by Texas Republicans has died, the state's last stand against same-sex marriage may take place via its Vital Statistics Unit. 
Texas marriage license application forms (shown above), which are generated by Vital Statistics, say "male" and "female." County clerks in Austin and San Antonio say if the U.S. Supreme Court rules in favor of marriage equality later this month, they'll simply modify the forms on their own. However, clerks in Dallas and El Paso say they'd be reluctant to do so, even though they're Democrats. 
From The Texas Observer: 
El Paso County Clerk Delia Briones (right) said she reached out to the Bureau of Vital Statistics about the forms in February, but was told to wait until after the court rules.

"What am I going to do, ask the person who's the man and who's the woman? I can't do that," Briones said. "You want to be proactive and be prepared, but they're stalling it at the state level, so my hands are tied."

Chris Van Deusen, a spokeswoman for the Texas Department of State Health Services, which includes the Bureau of Vital Statistics, said that after the Supreme Court rules, officials will consult with the attorney general's office to determine what changes are needed.

"Until the court rules, [we] won't be able know the impact on current operations or forms," Van Deusen said.
Republican Attorney General Ken Paxton is rabidly anti-gay, so it's possible he would try to resist the Supreme Court ruling by advising the Vital Statistics Unit not to modify the marriage license applications. 
However, Lambda Legal senior counsel Ken Upton (below) has a warning for government officials who defy the Supreme Court: They can be sued personally and could face punitive damages. 
From the Observer: 
"I think there will be some places where this is a problem, but it isn't going to be a problem for very long," Upton said. "I think a clerk that hides behind Vital Statistics, when the law clearly states you have to let them get married, risks personal liability."

Upton said it would also be illegal for clerks to stop issuing licenses to all couples, because they'd be interfering with the fundamental right to marry under the U.S. Constitution. If clerks or state officials refused to comply with a federal judge's order, they could face punitive damages into the millions of dollars, he said.

"If the Supreme Court rules in our favor, I think there will be relatively little resistance in most places," Upton said. "Where there are people resisting and throwing up obstacles, I think it will be a fireworks show worth watching, because the truth is they are going to get their heads handed to them."