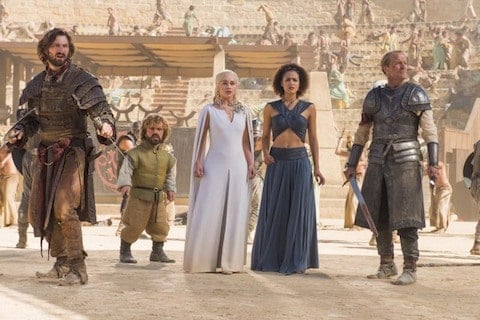 If last week's episode of Game Of Thrones wowed viewers with spectacle, tonight's installment, "The Dance of Dragons," walloped the audience with an emotional death and, elsewhere, a hugely satisfying rescue.
Did the show's reputation for knockout ninth episodes hold up?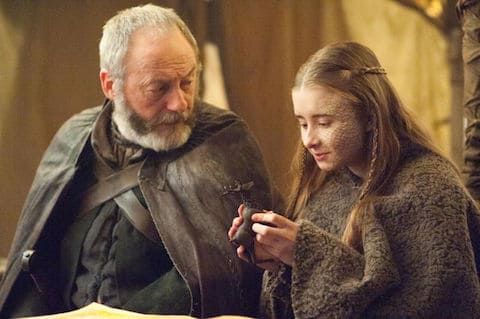 Meanwhile In The North …
Ho boy, things aren't going well for Stannis Baratheon (Stephen Dillane). For starters, winter is settling in, and it's getting cooler than cool; it's ice cold at his camp. Ramsay Bolton (Iwan Rheon) made good on his threat and took 20 or so men to the camp, setting fire to food, horses, you name it. With their camp seriously destroyed and supplies dwindling, Stannis is a desperate man.
You know things are going to get bleak when he sends Davos (Liam Cunningham) away to deliver a message. With his trusted hand out of sight, Stannis sets his sights on what he must know is a dastardly deed.
He visits his daughter, Princess Shireen (Kerry Ingram). Her father is obviously troubled, and the adorable princess is eager to help. There's been weeks of building up the touching father-daughter relationship between these two (not to mention weeks of reminders about the power of royal blood and leeches). So, when the brave Princess volunteers to help, it's hard not to shake your head, like, "Oh, no, gurl. Just no."
Shireen is about halfway to the stake when it dawns on her that she may not have thought this through all the way before volunteering. Couldn't she just record a PSA? Or join Habitat for Humanity? Or stump with Stannis on the campaign trail? No?
The first daughter of Dragonstone shrieks her way to the stake where Melisandre (Carice van Houten) awaits with a torch. She's tied up and set ablaze, screaming for her father, who's watching silently from the sidelines. Even her cuckoo-bananas mother realizes how awful all this is, but it's too late. Shireen — whose parents fought so hard to keep her alive — would be lost at their command.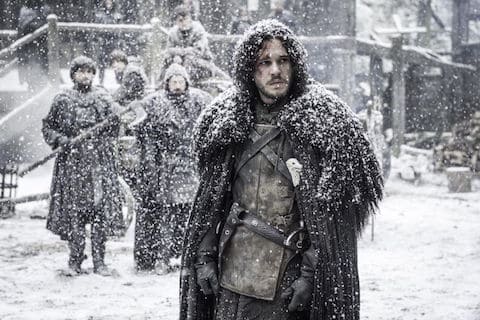 Meanwhile, At the Wall …
Jon Snow (Kit Harrington) arrives home with the surviving Wildlings, but when he gets to the gate, Alliser Thorne (Owen Teale) — he of the permanent smelled-a-fart face — is waiting atop the wall. You think for a moment he won't let them in, not by the hairs on his chinny-chin-chin. But the gates come up and in walks Snow and the Wildlings, much to the disappointment of folks like Olly (Brenock O'Connor).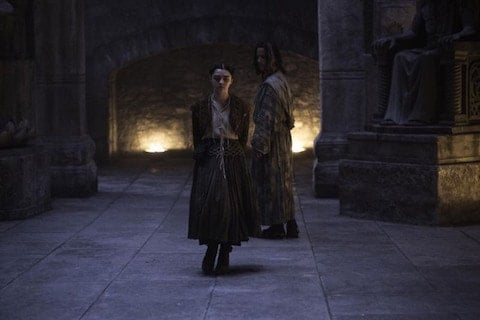 Meanwhile, In Braavos …
If becoming a faceless assassin doesn't work out for Arya (Maisie Williams), maybe she should just consider becoming a walking raw bar. It seems like the people of Braavos are hungry for the oysters, clams and cockles. She's stalking the gambler from last week, when a new arrival catches her eye. It's an envoy from King's Landing, containing Mace Tyrell (Roger Ashton-Griffiths) and Ser Meryn Trant (Ian Beattie), the latter of which earned a spot on Arya's personal kill list for (presumably) killing her sword instructor Syrio Forel (Miltos Yerolemou). She follows Trant into the brothel, where he further makes himself disgusting by demanding younger and younger prostitutes. Arya returns to the House of Black and White, only to lie to Jaqen (Tom Wlaschiha) about the gambler not being hungry.
Meanwhile, In Dorne …
Jaime Lannister (Nikolaj Coster-Waldau) gets a sweet deal from Doran (Alexander Siddig). Myrcella (Nell Tiger Free) can return to King's Landing, if Trystane (Toby Sebastian) goes as well, and if he is allowed to fill the seat left vacated by the head-squished Oberyn (Pedro Pascal). Ellaria (Indira Varma) seethes, but later calmly confronts Jaime and cheerily lets him know that she's well aware he's Myrcella's father, which is dangerous information indeed. If that got out, not only would Myrcella's marriage to Trystane be meaningless for Doran, but it would likely raise enough eyebrows to void Tommen's claim to the crown.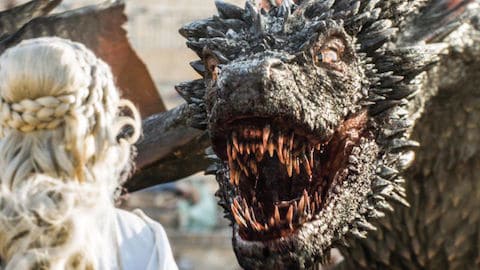 Meanwhile, In Meereen …
It's time for the Super Bowl of deathmatches. But, for a fight to the death, Daenerys is giving me LIFE in an adorable capelet, sitting there accessorized to the GAWDS in a fierce dragon necklace. Never has the phrase YAS, KWEEN been more appropriate. Get it, gurl.
She's not the only one slaying, though. Ser Jorah (Ian Glen) has earned his spot in the Money In the Bank match, or whatever, and he hacks and slashes his way to victory in the battle royale. There's not a ton of time to celebrate though, because, DEAR GOD, THAT'S STONE COLD'S MUSIC! Just kidding. It's a run in from the Sons of the Harpy. The rebel group has certainly been recruiting, because the folks in gold masks start flooding the arena. They overwhelm the guards, driving Daenerys, Tyrion (Peter Dinklage), Daario (Michiel Huisman) and Missandei (Nathalie Emmanuel) into the center of the ring. Hizdahr (Joel Fry) isn't quite so lucky, getting shanked soon into the battle. Just when all hope seems lost, Drogon arrives, starts chomping on Sons of the Harpy and roasting the rebels. Even with Drogon on their side, they're still outnumbered, so Daenerys climbs aboard her dragon and sashays away.
What did you think of tonight's episode?