The North Carolina House of Representatives has put off a vote to override Gov. Pat McCrory's veto of a bill allowing public officials to opt out of marrying same-sex couples for "sincerely held religious" objections.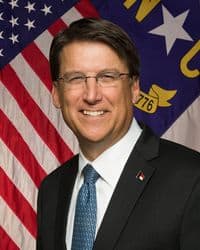 On Monday, the state Senate voted to override McCrory's veto. 
The AP reports:
The marriage bill was listed on the House agenda Wednesday for the first time since McCrory vetoed it. House Rules Chairman David Lewis said action would likely be delayed because a couple lawmakers originally voting for the bill were absent. It's unclear when an override vote would occur. […]
McCrory said late Wednesday the House should have taken the marriage vote so that legislators can move on to more pressing issues like job creation.
A three-fifths majority vote is required to override a veto. The House approved the bill in a 67-43 vote last week. 
And if you have not already done so, be sure to check out Rachel Maddow's expert analysis of the dangerous implications of this bill HERE.