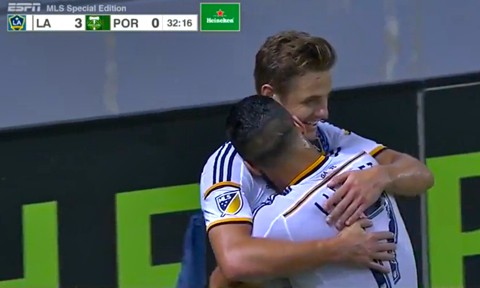 In what he later called "a special moment," openly gay Major League Soccer player Robbie Rogers scored his first goal since coming out on his team's LGBT Pride Night.
Rogers came out in 2013 before briefly retiring but later joining the LA Galaxy and becoming the first openly gay man to play in one of the five major North American professional sports.
Last week, Rogers was named to MLSsoccer.com's Team of the Week, but that honor seemingly pales in comparison to what happened Wednesday night.
With hundreds of LGBT fans, including his boyfriend, looking on, Rogers found the back of the net in the 32nd minute of a match against the Portland Timbers.
In a release about Rogers' goal, the Galaxy called it "something straight out of Hollywood." Here's what Rogers had to say after the game:
"I didn't think I was going to be so emotional and I didn't think it was going to have the impact that it did have on me, so it was a great way to cap off tonight," said Rogers who was all smiles after his first goal. "Tonight's obviously Pride Night so it's special and I think that's why it was more emotional because I know there were a lot of people that had never been to the stadium before like my family, my boyfriend, his friends and a lot of people from West Hollywood. …

"When I'm playing, obviously I'm playing for the Galaxy, these guys, my family and most importantly, myself, but I also feel like I'm playing for those in the LGBT community," Rogers said. "Sometimes it has been tough for me and I've felt the pressure and from the moments like this and the [2014 MLS Cup] Championship, I never expected for me to find that pride or to be proud of coming from a community that doesn't really have a huge footprint in sports. To be a part of it… It's a special moment."
Watch Rogers' goal and his post-game interview below.
h/t: OutSports