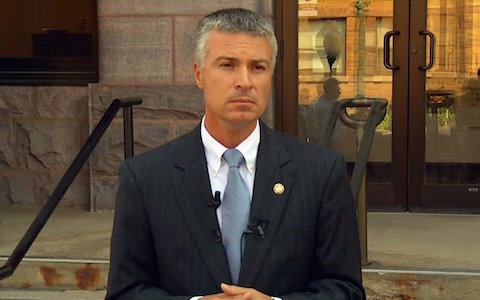 South Dakota's Attorney General Marty Jackley accurately predicted last fall that the legality of gay marriage, including South Dakota's gay marriage ban, would ultimately be decided by the U.S. Supreme Court. Now that the decision has been in made in favor of same-sex marriage, Jackley is trying to call for "coexistence" between gay marriage rights and religious freedoms.
According to Keloland/AP, Jackley states that if a state employee has a religious objection to issuing a same-sex marriage license then another employee can step in and fulfill the request. If no one is available at that particular office then another office, county, or state could issue the license to the couple.
Jackley calls this a "commonsense solution" that violates neither the rights of the same-sex couples nor of the religious clerks. What it is, in fact, is passive-aggression on a Regina George level that puts all of the burden of this farce of a compromise on the same-sex couples wishing to wed, while excusing employee behavior that would result in firings from most job positions.
It's debatable how well these actions will stand up to any legal scrutiny that comes their way, but in the meantime it may mean that same-sex couples in South Dakota will need to prepare to shop around to find county clerks who don't put their prejudices ahead of the federally-protected rights of others.