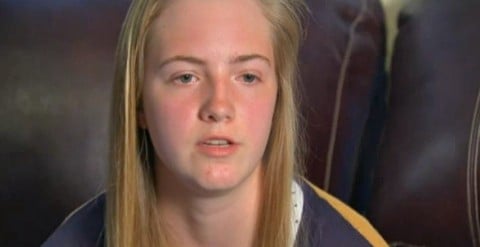 Back in March we told you how a Texas high school refused to allow a lesbian student to make an adorable "promposal" to another girl.
Timber Creek High School's denial of 16-year-old Casey Akers' "promposal" — a tradition for straight students — prompted her to lobby the Keller Independent School District to enact LGBT protections.
CBSDFW.com reported in April:
The teenager was a little nervous before she stood up to demand district-wide changes at all public schools in Keller. "How can a homosexual student feel safe when we are not protected?" she asked.
Talking about what lead prompted her to address district leaders she said, "I was mad, I was confused, but mostly it just gave me a little fire." …
The teenager is now asking school board members for that change in the handbook. "Why is it okay to discriminate against LGBT, but not against a certain race or gender?" she asked.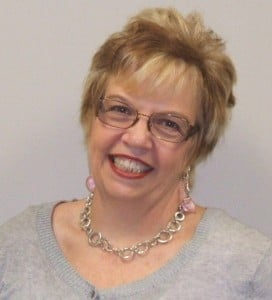 Four months later, the Keller ISD board is scheduled to vote Thursday on whether to add sexual orientation, gender identity and gender expression to several district nondiscrimination policies. But not surprisingly, the proposal has met with opposition from some school board members in the conservative suburb of Fort Worth. The Star-Telegram reports:
At a board meeting June 25, when the administration presented a preview of the proposals, two trustees — Brad Schofield and Jo Lynn Haussmann — expressed concerns that the added language would open the district up to liability and additional costs and would not be supported by a majority of the community.
"In my opinion, this is going to add a huge budget problem," Schofield said.
Schofield said at the June meeting that he thought the policy adoption could require the district to add restrooms for transgender students.
Trustee Haussman (above right) posted a disgusting, transphobic message on Facebook encouraging people to attend Thursday's meeting and oppose the changes: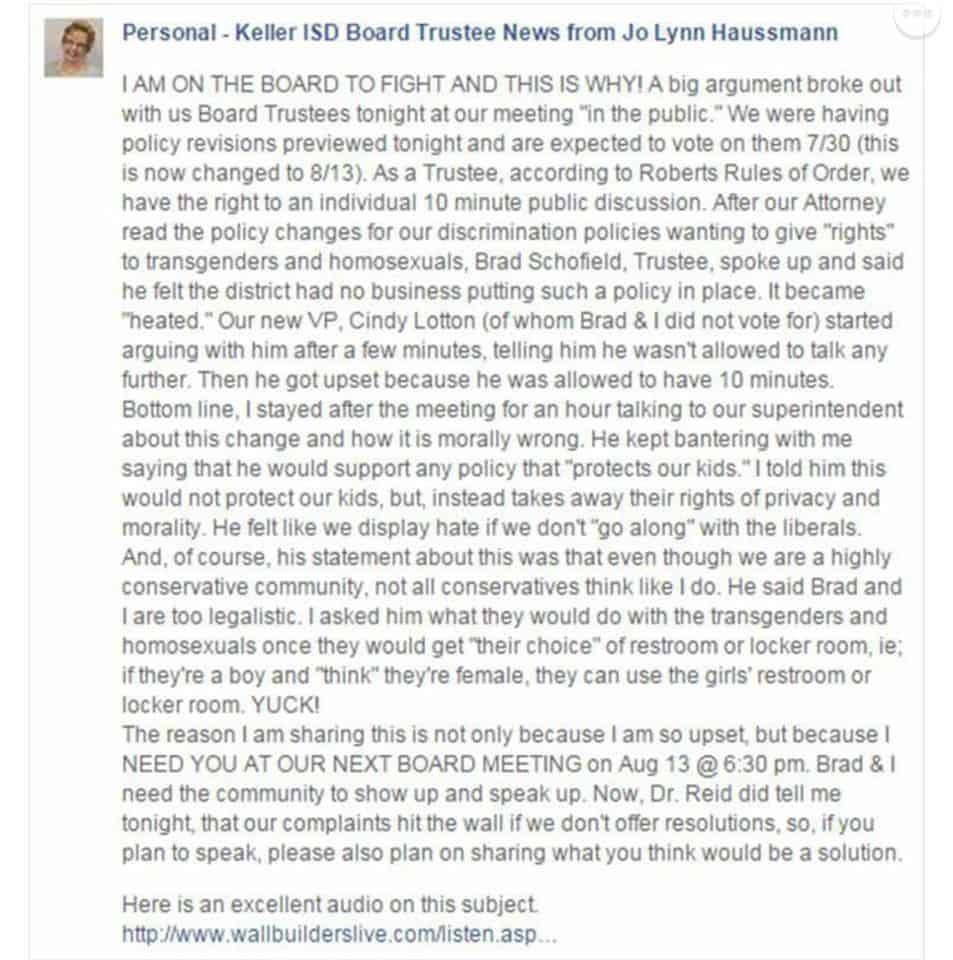 Also lobbying against the changes is the conservative Texas news site
 Push Junction
, which wrote that, "We are fighting for the innocence of our children." However, the proposal is supported by the district's attorney and the board president. From
The Star-Telegram
:
Amanda Bigbee, attorney for the Keller school district, said, "We currently have transgender students in our schools and haven't had issues making individual plans that meet their needs."
Bigbee said that district officials have been following federal guidelines for nondiscrimination that include gender issues and sexual orientation. The proposed changes make clear to students, employees and the community that bullying and harassment won't be tolerated. …
Board President Craig Allen, who also participated in the subgroup, said, "We added the language to let students and the community know that we value all our students and won't allow bullying or discrimination. I think that's a message that we need to send."
Watch reports on Akers' push for LGBT protections and the school's rejection of her promposal below.