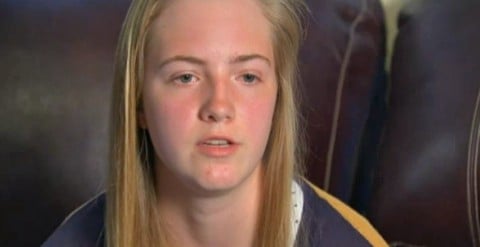 A lesbian teenager in Texas says her high school refused to allow her to make a "promposal" to another girl.
Promposals, apparently a tradition at Timber Creek High School in Keller, near Fort Worth, are dramatic, public invitations to prom between students.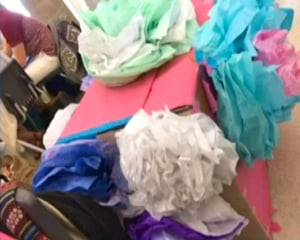 Casey Akers (above), 16, planned to jump out of a box with flowers on it (right) holding cookies and a sign that said, "Out of all these cookies, you're my favorite one. Prom?" The name of the girl Akers planned to invite to the prom is Cookie. 
Akers said she got approval for the promposal from school administrators — until they found out she was inviting another girl. NBCDFW.com reports: 
"I gave them all the details before. They say it's fine. They find out who I am asking, then say it's not fine," Akers said.

Akers sent a direct message about what happened to a friend on Twitter. Akers' friend who tweeted a screenshot of the message — with Casey's permission — and it didn't take long for the hash-tag campaign #LetCaseyPromposal to take off. 

"People are tweeting me from all over the U.S.," Akers said. "I had someone tweet from Toronto, Canada. This is spreading like crazy, and all I want to do is get the word out."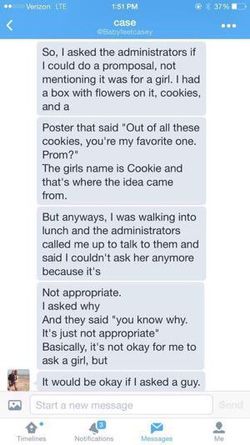 In the message to her friend, Akers said she was walking into lunch when administrators pulled her aside and said her promposal was not appropriate. When she asked why, they said, "You know why. It's just not appropriate." 
Akers still plans to attend the prom with Cookie. 
"This is spreading like crazy and all I want to do is get the word out," she told NBCDFW.com. "I just want equality for everyone." 
The Keller Independent School District later issued a statement alleging that all promposals are prohibited, not just same-sex ones: 
"In response to recent social media posts regarding "promposals" at our high school campuses, Keller ISD does not grant permission for any student, regardless of gender, to conduct public prom invitations, or promposals, on campus during the school day. Any previous promposals that have occurred have done so without District approval. Promposals, and other similar public displays, may create a disruption to the academic setting, therefore they are not allowed for any student."
The district's statement may reflect a realization that under Title IX, administrators cannot discriminate based on sex. Therefore, the school could be in violation of federal law if they allowed straight promposals but not gay ones.
Watch NBCDFW.com's report, AFTER THE JUMP …