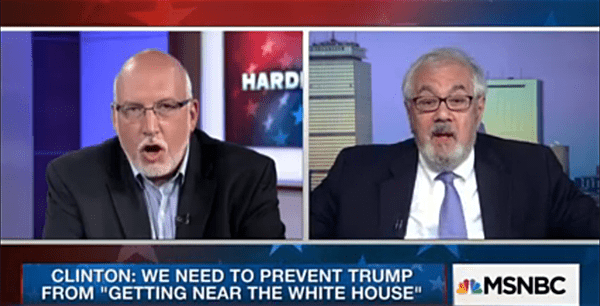 Former Congressman Barney Frank and Sanders Campaign Manager Jeff Weaver faced off on Wednesday on Hardball with Chris Matthews.
The segment got off to a heated start in part because Sanders and his campaign have called for Frank's removal as Chair of the DNC's Rule Committee at this summer's national convention.
Frank, the first sitting U.S. Congressman to come out as gay, has been an outspoken advocate for Hillary Clinton. Weaver said that it was the tenor of Frank's support for Clinton that, in his eyes, disqualifies him from having a role on the rules committee.
Weaver called Frank "a very hostile and attack surrogate" for Secretary Clinton, adding that Frank has insulted Senator Sanders.
Frank fired back, "I am somewhat surprised to hear a Sanders representative complain about divisive rhetoric. It seems to me that both he and I have been very willing to speak out and be critical of other people."
Frank also threw shade at (NB: not on) Sanders himself, remarking, "[Back in the early 2000s] I went to Burlington to have a fundraiser for [Sanders] and frankly, as the senior member of the banking committee, sometimes when I did fundraisers a bank or two showed up. So I hope for the sake of Senator Sanders' purity, they can scrub that and maybe they need to give some money back." That barb no doubt alluded to Sanders' attacks on Clinton that she is in the pocket of Wall Street and big banks.
As for Sanders' call to remove Frank from the rules committee, Frank underscored the committee's insignificance: "The role of the rules committee is a very, very small one." He added of why he was given the position, "One of my hobbies is parliamentary procedure."
Matthews then hammered Weaver on whether Sanders plans to fight for superdelegates until they vote via roll call on the Wednesday of the convention, a day or two after Sanders would be slated to speak in prime time. Weaver confirmed that Sanders intends to fight for the nomination until that roll call vote.
Frank then criticized the Sanders campaign for not attacking Donald Trump enough and instead focusing its ire on Hillary Clinton. "I would hope that Senator Sanders could continue to make the case why he should be the nominee while not ignoring Donald Trump," he said. "Things you're saying now will have an impact later."
While discussing Sanders' focus or lack thereof on Trump, Weaver interrupted Frank, which prompted Frank to retort, "I'm sorry, I think you should not interrupt me. Let's all be civil." And Weaver shot back, "That could start with you, sir." Matthews then intervened saying, "One at a time." Frank was baffled by Weaver's remark: "I haven't interrupted you. Why the chip?" (As in 'chip on your shoulder').
Watch the caustic exchange, below.