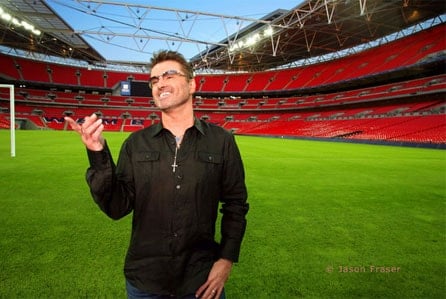 Calling it a "rounding off" of the first phase of his career, George Michael says he'll tour the U.S. in June for the first time in nearly two decades as a prelude to phase two, which may or may not include television production, an autobiography, and producing more music, which he says he'll likely give away for free: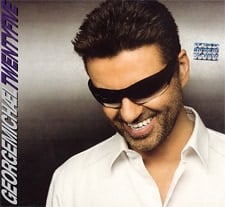 "Disturbed by the increasing trend of downloadable music rendering CDs obsolete and talent shows such as American Idol taking the passion out of pop music, Michael says, 'it's the end of a certain era, and I'm not sure how much I really want to be a part of what's next. So, it's a kind of a way of saying thank you to everybody before I move on.' But this is not a farewell tour for the Grammy winner who shot to stardom in the '80s with the band Wham! and crashed when he was arrested for lewd conduct in a Beverly Hills public bathroom in 1998. Hoping to release more music in the future, Michael suspects he will offer it up to fans gratis to allow for artistic freedom. 'There are other ways I can express the things I want to. And pop music stopped being a place to express much lyrically awhile back.'"
Michael says fans can expect "the best show of their lives" which will feature tunes from his retrospective album Twenty-Five, out the first week of April. He also says this will be his last big tour: "I don't want to do anything on this scale again. No more stadiums. I'd like to be the Tony Bennett for my generation."
Tour dates AFTER THE JUMP...
Tour dates and stops for George Michael's first U.S. tour in nearly 20 years:
June 17: San Diego/San Diego Sports Arena
June 19: San Jose, Calif./HP Pavilion
June 21: Las Vegas/MGM Grand
June 22: Phoenix/US Airways Center
June 25: Los Angeles/Great Western Forum
July 2: Seattle/Key Arena
July 4: Vancouver/General Motors Place
July 7: St. Paul/Xcel Energy Center
July 9: Chicago/United Center
July 13: Dallas/American Airlines Center
July 14: Houston/Toyota Center
July 17: Toronto/Air Canada Centre
July 18: Montreal/Bell Centre
July 21 and 23: New York/Madison Square Garden
July 26: Philadelphia/Wachovia Center
July 27: Boston/TD Banknorth Garden
July 29: Washington, D.C./Verizon Center
July 31: Atlanta/Philips Arena
Aug. 2: Tampa/St. Pete Times Forum
Aug. 3: Sunrise, Fla./Bank Atlantic Center