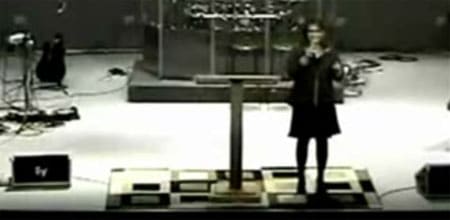 Sarah Palin visits her childhood church the Assemblies Of God.
Sullivan writes: "She comes across as a charismatic, Pentecostalist charmer in favor of the Iraq war as part of God's plan. Track has a Jesus tattoo on his calf, by the way. My favorite quote: 'Y'all are a bunch of cool-looking Christians.' Her pastor speaks after her of the 'last days' when the lower 48 states may have to seek refuge in Alaska. This governor is on a path, by her own testimony, that is being guided by God. When you see this clip, you can see evangelical Christianism coming ever closer to the White House."
Watch it, AFTER THE JUMP...