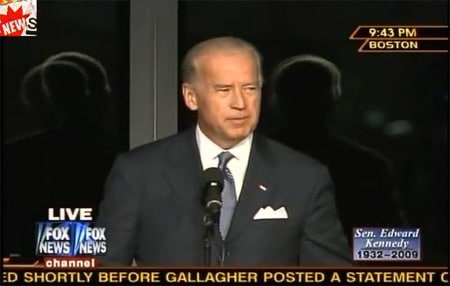 Senator Edward Kennedy was remembered at the John F. Kennedy Presidential Library in Dorchester, Massachusetts this evening. Here is one part of Vice President Joe Biden's moving remarks that might interest you:
"I think the legacy of Teddy Kennedy can be measured in no small part as a consequence of how we in America look at one another. How blacks look at whites. How gays look at straights. How straights look at gays. How we literally look at one another. And in turn how we look at ourselves. Because when you were with him you had to measure yourself against him. And it always required you to be larger than you were inclined to be."
Biden's full remarks, plus Orrin Hatch, John Kerry, Chris Dodd, John McCain, Joseph P. Kennedy, and Caroline Kennedy, AFTER THE JUMP...
Biden's full remarks:
Orrin Hatch and John Kerry
Chris Dodd and John McCain:
Joseph Kennedy and Caroline Kennedy: