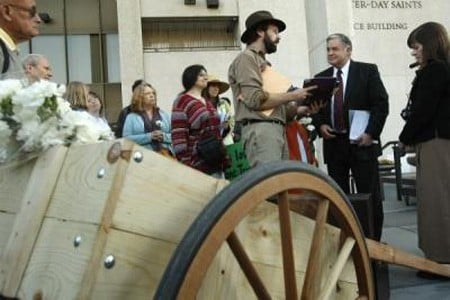 Members of the Foundation for Reconciliation, a gay Mormon group, delivered more than 2,000 petition signatures by handcart to the headquarters of the Church of Latter Day Saints in Salt Lake City on Wednesday, marking the one-year anniversary of Proposition 8 in California.
The Salt Lake Tribune reports: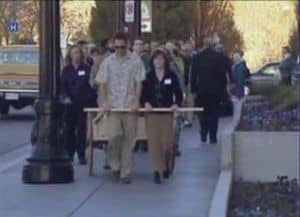 "About two dozen people joined in the two-hour, downhill walk from This is the Place Monument to City Creek Park for a short rally, where attendance grew to about 40. The group then delivered a trunk, filled with the signatures and other materials, to Mark Burton, a member of the church's public affairs staff, outside the Church Office Building downtown. Participants, singing the LDS hymn "Love One Another," dropped white carnations on the trunk to pay tribute to gay Mormons who have committed suicide. LDS officials denied a request that a general authority meet with the group -- which last month scored a meeting with Gov. Gary Herbert -- to accept the petition."
Watch a report on the cart's journey and its arrival at LDS headquarters, AFTER THE JUMP...
(top image salt lake tribune)