Sponsors of the 'Stars on Ice Tour' are refusing to invite Olympian and three-time National Champion figure skater Johnny Weir to perform because he's not "family friendly" enough.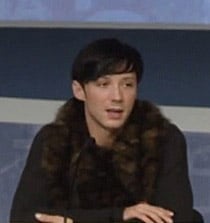 Read: Too gay.
GLAAD reports: "To say that Weir is 'not family friendly' would be a clear jab at his perceived sexual orientation. Weir is extremely involved with his family. He is putting his younger brother through college, and supports the family financially because his father's disability prohibits him from working. Weir's dedication to his family can be clearly documented in the Sundance series, Be Good Johnny Weir, which follows him and his family and friends through his life and career as a championship skater. Weir's performance and costume style is sometimes considered flashier than those of other skaters, leading to questions about his perceived sexual orientation. While Weir has not officially announced his sexual orientation, he has garnered a significant amount of LGBT fans."
Weir's recent Vancouver press conference, at which he was forced to defend himself and his individuality, AFTER THE JUMP...