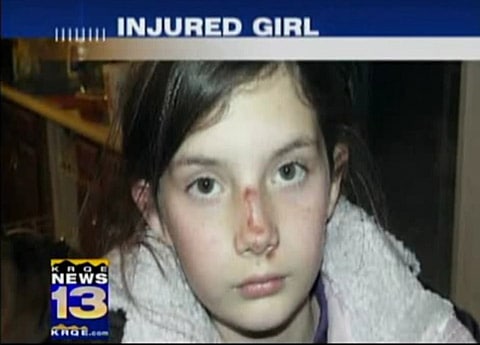 The lesbian parents of an 11-year-old girl in New Mexico say the girl's teacher neglected her after a bullying incident on the school playground in which she was pushed and scraped her face. Jenna Bissell's parents say the teacher let her bleed instead because she doesn't like the fact that she has lesbian moms, KRQE reports:
"The Bissell-Peterson family said they've had constant conflict with Jenna's fifth grade teacher. The day of the accident Shannon said she called the teacher when she found out about Jenna's injuries. 'I said, 'I'm not sure what it is here, why you don't like her, if it's because she has two moms.' She interrupted me and said 'Yes it is and take [your] children to another school,' [and] then hung up,' Bissell-Peterson said. Rio Rancho Public Schools said there are no facts that back up these allegations. 'We take it very seriously and we take issues of this sort very seriously and we look into them thoroughly. But in this case the allegations have not been substantiated,' Rio Rancho Public Schools Communications Officer Kimberley Vesely said. The family filed a tort claim against the school district."
Watch KRQE's report, AFTER THE JUMP...