TOWLEROAD READERS: Send reaction photos to the Prop 8 decision to [email protected] to be featured on our site tomorrow. OR send video reactions and reports to [email protected]
**************
The U.S. District Court of Northern California just announced that the Proposition 8 decision in Perry v. Schwarzenegger will be coming tomorrow.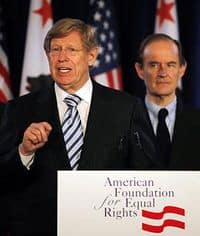 "On August 4, 2010, the court will issue its written order containing findings of fact and conclusions of law following the court trial held in January and June of this year. The order will be e-filed in the court's Electronic Case Filing system, and will be immediately available thereafter through ECF and PACER. There will be no court proceeding associated with the publication of the order."
The decision will be posted between 1pm and 3pm PDT.
Whatever the decision, it is expected to be appealed.
Text "EQUAL" to 69866 to get a text message with the official decision on your mobile phone the moment the court releases its decision, or sign-up for an email alert at equalrightsfoundation.org. 
Join American Foundation for Equal Rights on its Web site to watch a live press conference with the plaintiffs, American Foundation for Equal Rights Board President Chad Griffin, and co-counsels Ted Olson and David Boies following the release of the decision.
A decision day rally is being held in NYC at the NEW YORK SUPREME COURT at 7 pm. That's at 60 Centre street in downtown Manhattan.
A Los Angeles public event will be held in West Hollywood Park - 6pm time tentative.
A small number of hard copies of the announcement will also be made available for public review shortly after the order is e-filed in the following locations:
San Francisco Courthouse: Clerk's Office (16th Floor) & Press Room (18th Floor)
Oakland Courthouse: Clerk's Office
San Jose Courthouse: Clerk's Office
Watch the interview Towleroad's Corey Johnson conducted with attorneys Ted Olson and David Boies in March of this year, AFTER THE JUMP...