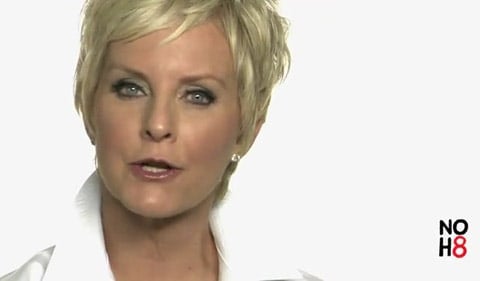 Cindy McCain has issued a clarification, this a day after she appeared in a viral ad for the NoH8 campaign which included her strong words of support for the LGBT community and her objection to the "don't ask, don't tell" policy, a view that is at odds with that of her husband's. In the video she is heard saying "our government treats the LGBT community like second class citizens, why shouldn't they?" and "They can't serve our country openly."
Now it apears as if she's taking back that last bit. Late yesterday, McCain sent out this message on Twitter: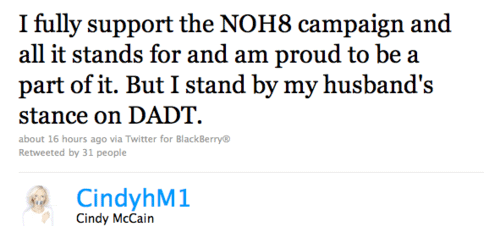 Americablog is fuming:
"Did she lie today or lie yesterday?  Either way, she's a liar, and she should be removed from the NOH8 video because, as of right now, Cindy McCain is a hater.  Not to mention, great message she just sent to gay youth.  If someone pressures you, cave and support hate."
Sounds like she's backpedaling simply because, as Dan Choi pointed out to Keith Olbermann last night, her "very significant" public objection to DADT "underscores the values behind the repeal effort," something her husband opposes.
Watch that interview, which apparently aired before McCain's tweet, AFTER THE JUMP.