This weekend brings the release of the movie Dunno Y…Na Jaane Kyun, the first Bollywood film to feature an onscreen gay kiss, in India. In the months leading up to its release, the movie has been touted as that country's Brokeback Mountain. Censors in India, where homosexuality was legalised only last year, have apparently cut many of the gay scenes.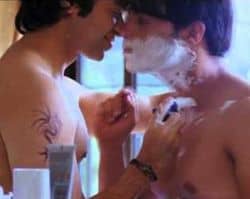 Dunno Y's star Kapil Sharma recently revealed how he feels about the controversial film's release and also talks about protests he's face already:
"The feeling before the release is mixed. I am excited, nervous, anxious and happy. The film has faced many controversies, from the censors taking three months, to getting distributors for an unconventional subject."

The star spoke also about the pre-release controversy surrounding the film: "Recently I received threatening mails, in which it was written that this film would corrupt society and that homosexuality is part of western culture. They said that we would be damaging society if it releases, and the consequences would be bad for us.

"Political party workers also came down to my building to protest, until the police took good care of the situation. I am scared that they may create further scene on release of the film, but let us hope for the best."
Earlier this year, co-star Yuvraj Parashar's father publicly disowned his son for playing gay on screen. Their relationship has improved and Parashar has since sent another actor in the movie to speak with his father and "play peacemaker."
Breaking yet another barrier in Asia, Malaysia will see the release of its own first gay film in February.
Watch a BBC report about the release of Dunno Y…Na Jaane Kyun, AFTER THE JUMP.