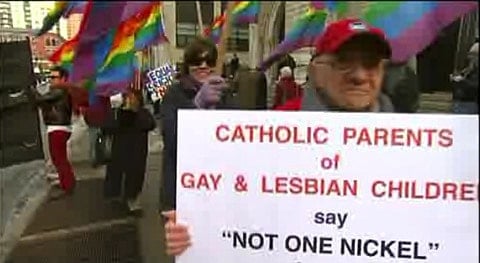 Approximately 50 activist led by Chicago's Gay Liberation Network picketed the city's Holy Name Cathedral and Cardinal Francis George yesterday, protesting the Catholic Church's attempts to block marriage equality and civil unions in the state, Now in Gay Chicago reports.
Said GLN leader and activist Andy Thayer: "Cardinal George went into overdrive to try to defeat the civil unions bill in Springfield. Every single piece of pro-rights legislation that's ever been proposed for the lesbian, gay, bisexual and transgendered community, this cardinal and his predecessors have opposed."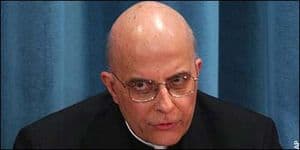 George responded to the protests: "Some members of the Gay Liberation Network demonstrated in front of Holy Name Cathedral on Sunday, February 13, protesting against Catholic Church teaching on the immorality of homosexual genital relations and opposition to so called 'gay marriage.' These are deeply felt issues, because they speak to the personal identity of some and to the religious beliefs of others. No matter the issue, Catholics should be able to worship in peace, without fear of harassment. An open display of prejudice against the Catholic Church because of resentment of Church teachings prejudices civil discourse in our society."
Watch the news report on the protest, AFTER THE JUMP...